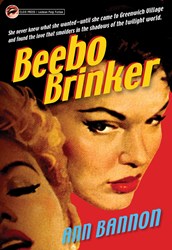 (PRWEB) November 12, 2013
Ann Bannon, author of the iconic lesbian pulp series Beebo Brinker, will speak on a queer pulp fiction panel tonight at 6pm at the San Francisco Public Library. Join her and historians Martin Meeker and Jenny Worley, and modern pulp writers F. Allen Sawyer and Monica Nolan for a scintillating and lively discussion on queer writing past and present.
Feminist for Choice, a large women's rights activism network, recently reviewed Ann Bannon's Beebo Brinker series. The article explains that "although we live in an age of hashtags and electronic tablets, many of us still read bound stacks of paper called books. Lesbian pulp fiction still has meaning for both young queers who are just coming out of the closet, as well as with lesbians from an older generation." Ann Bannon was also interviewed on the same topic. She comments on the universal appeal of her heroine Beebo Brinker, saying that "Beebo was sort of everyone's dream girl. If you were butch, she was an ideal you could laugh with, drink with, hang out with, and aspire to be."
Ann Bannon is known to readers around the world as the Queen of Lesbian Pulp Fiction. She is famous for the novels she wrote from 1957 to 1962 during the pulps' heyday, including Odd Girl Out, Women in the Shadows, and Beebo Brinker. Several of the books were adapted for the stage as The Beebo Brinker Chronicles, which premiered in New York in 2007 and has played around the country, including a 2010 production at San Francisco's Brava Theater.
Join Ann at the San Francisco Public Library main branch Koret Auditorium today (November 12) from 6-8pm.