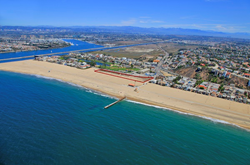 Playa del Rey, CA (PRWEB) November 12, 2013
Hilton & Hyland, the renowned luxury real estate firm based in Beverly Hills, CA, has listed 3-acres of beachfront property in the beautiful coastal neighborhood of Playa del Rey. The beachfront property is going for $100 million and is shared by esteemed agents, Jeff Hyland and Steve Levine.
Situated just south of edgy Venice Beach and affluent Marina del Rey, Playa del Rey boasts the best of both worlds. Featuring trendy beach living that is just a short drive from the heart of Los Angeles, Playa del Rey has something for everyone.
The 3-acre Hilton & Hyland property faces the beachfront and consists of about 700 lineal front feet. Featuring unique multi-zoning, the property has the potential to be used for high-density commercial building or multi-family zoning. Beautiful hotels, condos, apartments or single-family homes are all within the realm of possibility. This rare opportunity includes a potential construction height limit of 36 to 47 feet. Additional non-contiguous properties are available.
Over the last 30 years, Steve Levine has established himself as one of the most respected luxury real estate agents in the Los Angeles area. With clientele ranging from Commercial Real Estate Investors to High Profile Celebrities and Professionals, Steve has created an environment that puts buyers and sellers at ease with his in depth knowledge of the luxury home market and charismatic personality.
President of Hilton & Hyland, Jeff Hyland's impressive real estate career includes founding two exclusive real estate firms of renown, being a Founding Member of Christie's Internationl Real Estate , serving as President of the Beverly Hills Board of Realtors and President of the Los Angeles County Boards of Real Estate, as well as State Director for the California Association of Realtors.
To learn more about Hilton & Hyland realtors Jeff Hyland or Steve Levine or for more information about the Playa del Rey property, please visit http://www.hiltonhyland.com.
ABOUT HILTON & HYLAND
The House of Hilton & Hyland stands on the precipice of pristine reputation and superior standards. Real-estate visionaries, Rick Hilton and Jeff Hyland have built an exemplary empire that is further propelled by their staff of elite agents who bring an unmarred brilliance to each transaction. Having long since set the bar of excellence, Hilton & Hyland's success is measured by its paramount service, genuine customer satisfaction and ongoing innovation.