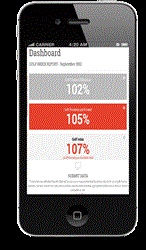 A must have tool for all golf course operators.
San Juan, Puerto Rico (PRWEB) November 14, 2013
Golf Data Systems, LLC announced today the launch of a new golf course software management product called the Golf Index Report. The Golf Index Report is an online reporting system designed to measure statistical and financial results of a particular golf course, while offering insights into the results of other courses within its competitive set. The Golf Index Report is the only patented performance measuring report of its kind tailored specifically to the golf course management industry.
The Golf Index Report enables managers to track the vital statistics of their course on a month-to-month and year-to-date basis and compare data with similar courses. The analyses provide insights for managers to make strategic business decisions based on the course's individual performance and competitive market information.
"The Golf Index Report is the first online reporting tool that offers detailed, relevant financial information to resort courses, public courses, and private clubs along with a competitive analysis," stated Joseph Harvey, CEO, Golf Data Systems, Inc. "With insights into customer segmentation and market share, the Golf Index Report is an instrumental tool for measuring revenues on various income streams. Our patented analytical tools review revenue data from types of rounds, clubhouse spending as well as food and beverage spending per round, then provides comparative data on similar courses. This makes the Golf Index Report an instrumental tool for understanding the marketplace as well as for revenue forecasting."
Each month, subscribers fill out an easy-to-use online questionnaire. Results are tabulated and the Golf Index Report is sent back to course managers within ten days. Reports are also made available through the Golf Index's interactive website. With analysis packages for an 18-hole course beginning at $975 per year and $300 per each additional 18-hole course, the Golf Index provides a timely and cost-effective way to review course data and gain marketplace insight.
Data insights that are provided in each report include:

Golf Course Utilization: How many rounds per available hole a course utilized compared with other courses in a similar competitive set;
Revenue Per Round: The average revenue per round, compared to the competition;
Golf Index: The average golf revenue per available hole.
"Together, these statistics provide powerful insights into how a golf course is doing revenue-wise against its competition and enables managers to review and adjust their revenue strategies based on hard data," stated Harvey.
The Golf Index Report is the only patented performance measuring report of its kind, tailored specifically for the Golf Course industry. The Golf Index Report is a product of Golf Data Systems. Golf Data Systems, LLC is a Puerto Rico registered company. Principals are Joseph Harvey, Chief Executive Officer and Ramon Sanchez, President. For more information, contact Ramon Sanchez at ramon.sanchez(at)golfdatasystems(dot)com, or visit http://www.golfcourseindexreportsoftware.com/.