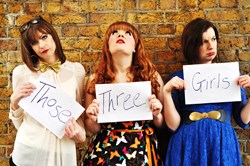 Those Three Girls' quality echoes the best of British funny females.
(PRWEB UK) 13 November 2013
Comedy writers and performers 'Those Three Girls' (Carly Sheppard, Lucy Barnett and Susannah Adele) came out on top at this year's Sitcom Mission competition with their sitcom GIRLBAND.
With an emphasis this year firmly on script development, The Sitcom Mission is an international sitcom writing competition, 'The X Factor for sitcoms.' It showcased 15-minute sitcom scripts at The New Diorama Theatre in London in front of the British TV and radio comedy industry. The Sitcom Mission has the central aim of getting a situation comedy commissioned either on TV, radio or online.
"...this year's competition and the central theme was script development. We were looking for writers who can take notes, are tenacious, thrive on feedback, love re-writing and adore the process just as much as the end result." - Simon Wright & Declan Hill - Founders of the Sitcom Mission
"Those Three Girls' quality echoes the best of British funny females." - Broadway Baby
The Girlband script follows the everyday lives of the misfit members of 90s pop trio Girlband's last-surviving fanclub: Girlband United, Now and Then (GUNT), living in close proximity in a suburban community. JENNY, a 30 year-old virgin, is desperate to disentangle herself from her mother's apron strings, and find love and a life of her own. Eccentric next-door neighbour DEBRA lives with her adult son Neil (secret object of Jenny's affections), and imaginary companion Barry. Meanwhile, across the street, CERI is preparing to marry her live-in boyfriend: trampoline sensation Gareth Thomas-Jones. He hasn't proposed (and it is clear to any casual observer that he is anything but heterosexual), but she won't let that stop her.
GIRLBAND explores what happens when teenage obsession develops a middle-aged spread.
GIRLBAND originally began as a stage production, debuting at The Tristan Bates Theatre 2012. Those Three Girls have been busily reworking the show for TV.
"We are delighted to have been crowned winners of Sitcom Mission 2013 and cannot wait to see what the future holds for GIRLBAND. Hashtag: guntforever!" - Those Three Girls
For more information, contact:
Those Three Girls
thosethreegirlscomedy(at)gmail(dot)com
http://www.thosethreegirls.com