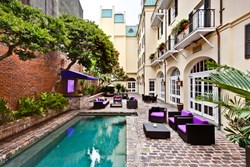 New Orleans, LA (PRWEB) November 13, 2013
The Hotel Le Marais, a boutique hotel of the New Orleans Hotel Collection, announced that it has received the coveted Expedia Insiders' Select award from the worldwide travel company.
The Expedia Insiders' Select is an annual award recognizing the very best hotels available in Expedia's global marketplace, as judged by the experiences of customers. Based on more than 500,000 guest reviews submitted annually by travelers, only 650 hotels were designated 2013 worldwide award recipients. These properties have been identified by Expedia customers as consistently delivering superior services, an exceptional guest experience and notable value; earning a place on the Insiders' Select list is a testament to their ongoing commitment to excellence.
"This recognition by guests and travel professionals is exceedingly rare and highly coveted. It was not one we searched out in any fashion except to put the comfort and desires of our guests first," said Craig Hulford, Area General Manager. "We are especially pleased that Hotel Le Marais has won this award as one of only two hotels in the entire region to be recognized this way."
Insiders' Select methodology includes guest reviews, value, and Expedia hotel expert input. Of the 150,000 hotels and resorts on Expedia, less than 5% - only 650 hotels - were deemed Insiders' Select 2013. Eligible hotels were ranked with a numerical score. These scores are completely independent of advertisers and partners. Only the top hotels with the highest scores were chosen for the Insiders' Select list.
Guest Reviews
Expedia is home to more guest reviews than any other online travel company. Last year, travelers submitted more than a million new Guest Reviews of hotels across the globe. To ensure authenticity, the company verifies each Guest Review by confirming that the reviewer has stayed at the property. To qualify for the honor of inclusion on the Insiders' Select list, a hotel had to have a minimum number of reviews.
Value
Judges systematically compared hotels and resorts to nearby properties with similar star ratings and amenities in order to determine the best value for money.
Expedia Hotel Expert Input
An extensive network of hundreds of experts in top destinations worldwide, provided their insight and firsthand knowledge of their destination's best hotels.
About Hotel Le Marais
Hotel Le Marais takes its name from the famous Marais district, one of the oldest and most architecturally significant areas of Paris. The completely renovated hotel evokes the "art de vivre" of the city, delivering a luxury boutique hotel stay to both leisure guests and business travelers in a comfortable and stylish retreat in the heart of the French Quarter. Located one-half block from Bourbon and Royal Streets, the hotel is ideally situated to the entertainment, dining, shopping and cultural offerings of America's favorite city. The newly designed 66-room French Quarter hotel creates an inviting and personable stay delivered in historical elegance with modern hotel conveniences. Signature amenities include complimentary Wi-Fi, welcome drink, breakfast and newspapers; a private courtyard with heated saltwater courtyard pool; fitness center; business center. Hotel Le Marais is owned by 717 Conti, LLC. The principals of 717 Conti, LLC, Joseph A. Jaeger, Jr. and Wayne Ducote are committed to the recovery of New Orleans and the further strengthening of the New Orleans hospitality industry. For more information, please visit http://www.hotellemarais.com.
About the New Orleans Hotel Collection
The New Orleans Hotel Collection is a group of seven splendid hotels in the New Orleans metropolitan region owned by local investors. Comprised of the Bourbon Orleans, Dauphine Orleans, Hotel Mazarin, Wyndham Riverfront, Audubon Cottages, Crowne Plaza New Orleans Airport and the new Hotel Le Marais, these are boutique and small upscale meeting hotels in prime locations throughout the city. For more information, please visit http://www.neworleanshotelcollection.com.