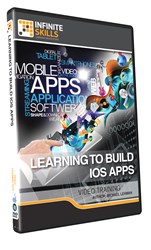 Learn to build an iOS App at your own pace.
(PRWEB) November 13, 2013
Software training firm Infinite Skills Inc. this week introduced its "Learning to Build iOS Apps Tutorial," a introductory course providing an overview of the app development process for iOS, including an introduction to Apple's UI Kit, frameworks, and a guide for preparing your app for delivery to the App Store.
Apple provides an extensive toolset for iOS app developers, allowing apps written in XCode and Objective C to be integrated with iOS services such as location, social networking, and other native features.
Infinite Skills Learning to Build iOS Apps Training Video provides an expert-guided introduction to all the elements of iOS app development, providing all the information for taking your app from conceptualization to the App Store.
Learning to Build iOS Apps Video Tutorial - Streaming
Course author Michael Lehman is an iOS development expert, currently heading an app development consulting company based in Seattle. He has been a software developer and information architect since the early days of computing, and began working with mobile devices in 1997 with the first hand-held wireless device, Palm 7.
Lehman begins with an overview of the entire process, explaining the difference between web software and mobile apps and introducing Apple's iOS Software Development Kit (SDK).
From there, Lehman dives into app development, walking students through building an entry-level app and explaining basics like how to add controls and work with XCode and Objective C.
The course then moves into an extensive exploration of the UI Kit, explaining how to build an interface, apply labels and buttons, and use the various tools for interface controls and views.
Other chapters cover important topics such as working with geolocation, social networks, reminders, and accessing the file system, as well as data storage with databases and interacting with the cloud.
"As of late 2013, there are more than 1 million apps in the app store, and there are more than 700 iOS devices out there on which your apps can run," Lehman says. "There is lots and lots of demand. Every thing you learn here will be applicable to the iPhone 4S, 5, and 5S, as well as all varieties of the iPad and iPad Mini."
Free demo videos and a full list of course contents can be found on the Learning to Build iOS Apps training page of the Infinite Skills website:
http://www.infiniteskills.com/training/learning-to-build-ios-apps.html
Infinite Skills offers its Learning to Build iOS Apps Training Video either as a DVD or a direct download from the company website at a retail price of $99.95. Though the compatibility of programs varies, all Infinite Skills titles and formats are compatible with both Mac and Windows operating systems, and shipping is available around the globe. Additionally, Infinite Skills tutorials are supported by project files which correspond to examples in the videos.
About Infinite Skills Inc.
A leader in the field of software training, Infinite Skills designs its courses on a task-oriented model, teaching complex skills by providing hands-on examples and guiding users as they carry out essential functions. Infinite Skills offers a wide range of software titles available as DVDs, digital downloads, and in iPad editions. Infinite Skills now offers a subscription service, providing access to all its training content for a monthly fee, keeping with company's aim of delivering professional training to customers anywhere they want to learn.