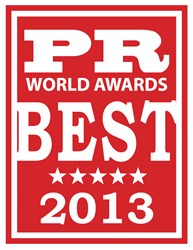 Instead of trying to seem like a better company, Foundation Financial Group is busy becoming one. FFG Marketing is just here to help.
Jacksonville, Florida (PRWEB) November 13, 2013
Foundation Financial Group has earned a prestigious PR World Award for its creative in-house marketing team. A panel of over 50 judges represented a variety of industry voices from around the globe, and their average scores determined the 2013 PR World Awards winners.
"Receiving recognition from our peers around the world is incredibly empowering," said Foundation Financial Group's VP of Marketing, Jessica Gueterman. "Our PR and Marketing department is dedicated to helping Foundation Financial make a positive difference while becoming the most preeminent financial services corporation. This award embodies FFG's commitment to being the absolute best we can be in every department."
Gueterman is proud to lead Foundation Financial Group's Public Relations and Marketing Division, which has been honored as PR World Awards' In-house PR Team of the Year. She credits her team's success to creative marketing campaigns, strategic social media use, and consistent corporate branding. Engaging employees, protecting the FFG mission, and nurturing a unique corporate culture are also vital functions of FFG Marketing.
"We use our time, energy, and imagination to deliver external marketing that interacts with the local community and internal marketing that inspires company pride," continued Gueterman. "Symbiotic marketing anchors FFG's corporate values while improving the lives of those around us. Instead of trying to seem like a better company, Foundation Financial Group is busy becoming one. FFG Marketing is just here to help."
The coveted annual PR World Awards program encompasses the world's best in organizational performance, innovations, products and services, executives and management teams, public relations and marketing campaigns, and customer satisfaction programs from every major industry in the world. Organizations from all over the world are eligible to submit nominations including public and private companies that are profit or non-profit.
About the PR World Awards
PR World Awards are an annual industry and peers recognition program honoring best of PR and corporate communications in every major industry from large to small and new start-ups in North America, Europe, Middle-East, Africa, Asia-Pacific, and Latin-America. The annual 2013 PR World Awards are part of the Silicon Valley United States worldwide recognition programs. The SUVS Awards consist of 9 world award programs in which you can participate every year, each held at a different date and location. Learn more about the PR World Awards at http://www.prworldawards.com
About Foundation Financial Group
Foundation Financial Group is a multibillion dollar financial services corporation. FFG offers its customers Best in Class service through its Insurance, Retirement, and Mortgage Services. Named one of the fastest growing financial companies in the country by Inc. Magazine for the third year running, FFG has continued to grow its nationwide presence with over 100,000 new customers per year in 39 states. In addition to the value that Foundation Financial provides every customer, it is also dedicated to its communities and the people who live in them. Through a vast array of philanthropic endeavors, the company not only provides significant monetary donations but also fosters a workforce environment that encourages all team members to personally make a difference. Foundation Financial is committed to its strong focus on customer service and community investment as it continues to grow and compete with the largest financial institutions in the world.
Foundation Financial Group reviews all public relations inquiries. For additional information, interview and image requests, contact the Foundation Financial Group Public Relations Team.