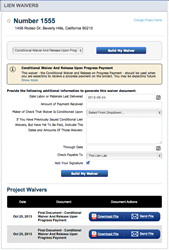 We built this aiming to not only relieve companies of an administrative task, but to empower companies to use lien waiver forms with high legal integrity to protect against payment abuses.
New Orleans, LA (PRWEB) November 13, 2013
zlien, the nation's leading platform for mechanics lien and bond claim compliance, today announces the release of a lien waiver management module enabling companies to generate, store, and electronically transmit construction lien waivers in all 50 states.
"Generating a fair construction lien waiver is a critical moment for subcontractors and suppliers during a project," says Scott Wolfe, zlien's CEO. "We built this module aiming to not only relieve companies of this administrative task, but to empower them to utilize lien waiver forms with high legal integrity to protect themselves against payment abuses."
zlien's construction lien waiver module enables companies to generate an unlimited number of waivers for any project. Users have control over a waiver's content, and the platform keeps track of all waivers created and sent for a project.
Other features of the construction lien waiver manager include:

Electronically sign lien waivers to avoid generating, printing, and scanning steps
Email lien waivers to other parties directly within the interface
Attorney drafted explanations for every lien waiver to help users understand implications of the forms
Conditional Final, Conditional Progress, Unconditional Final, and Unconditional Progress waivers available in every state
Includes statutory forms mandated in 11 States
Mechanics lien and bond claim deadlines calculated using Lien Waiver data
Using the lien waiver module is completely free.
"Subcontractors and suppliers are too often on the losing end of payment flow abuses and financial risk shifting contract measures," continues Wolfe. "zlien empowers these companies to control the lien process from start to finish, and lien waiver management is a critical piece to that mission."
To support the launch of its construction lien waiver module zlien published a tutorial online video demonstrating how to use the feature.
zlien also published multiple lien waiver resources including free downloadable lien waiver forms, color coded maps outlining the lien waiver rules and restrictions in each state, and multiple educational articles about construction lien waiver management.
"Managing mechanics lien waivers is more than generating and storing them," says Nate Budde, the company's chief legal officer. "Education on these instruments is very important because subcontractors and suppliers lose millions - if not billions - each year making avoidable mistakes."
Education about the entire mechanics lien and bond claim process is one of zlien's core offering, and in fact, inspired the lien waiver module itself.
"So many legal cases and situations turn on the text of a mechanics lien waiver, and lien waiver text varies so dramatically from party to party" continues Budde. "We committed ourselves to building a technological solution to this problem for subcontractors and suppliers. We're not only going to save them time and headaches, we're going to mitigate the legal risk associated with waivers."
To use zlien's construction lien waiver module, set up a free LienPilot account and add a project. From there, just click "Lien Waivers." To learn more, visit http://www.zlien.com/lien-waivers/
About zlien™
zlien provides software and services to help building supply and construction companies reduce credit risk, and control receivables, through the management of mechanics lien and bond claim compliance. Founded by experienced construction attorneys, zlien is the leading publisher of mechanics lien and bond claim resources and analysis, and has led the industry in innovating credit risk management solutions by utilizing the lien and bond claim laws. Learn more about zlien at http://www.zlien.com