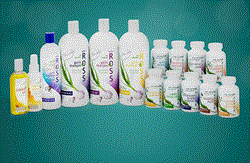 "November is about giving thanks, and we at Nora Ross would like to thank all of our clients with month-long sales," says Bill Kaidbey, President of Nora Ross. "Thank you for your patronage."
(PRWEB) November 13, 2013
Nora Ross, the leader in garlic hair treatment and supplements for over 20 years, is offering two special deals for the month of November. From now until Nov. 15th, customers can receive 15% off their entire order at http://www.noraross.com by entering the code ZDISC15 at checkout. From Nov. 15-30th, customers can receive free shipping on all orders over $45.
"November is about giving thanks, and we at Nora Ross would like to thank all of our clients with month-long sales," says Bill Kaidbey, President of Nora Ross. "Thank you for your patronage."
The team at Nora Ross has formulated the optimum hair care system through years of exhaustive research that combined the best of both science and nature. The result is a line of shampoos that provide a cleansing, revitalizing feel for a variety of hair and scalp types. These include ultra-thin and thicker hair types, along with scalp types that have a broad pH range. The shampoos promote healthy follicles, which leads to a healthy, vibrant scalp.
Nora Ross also produces industry-leading conditioners that augment their shampoos, leading to smooth, shiny and manageable hair. All Nora Ross products are gentle enough to use on a daily basis. The November discount and free shipping offers can be used on any of these shampoos and conditioners, as well as herbal supplements, Special Packages and more.
About Nora Ross
Nora Ross has offered the original, unscented garlic hair treatment and health supplements for over 20 years.
At Nora Ross, we recognize that in order to be successful in any competitive market, we must be responsive to the needs of our clients, design excellent products at reasonable prices, and most important, represent our products and services in an honest manner.
All Nora Ross products are made with quality as the main ingredient. We truly believe that saving a little money on inferior ingredients is not worth it, and we are certain that all our clients do agree. For more information, visit http://www.noraross.com.