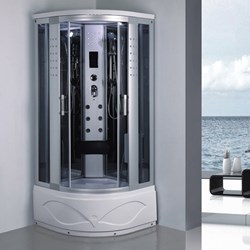 Ebathrooms does not cut corners and have made quality their number one priority.
Los Angeles, CA (PRWEB) November 12, 2013
Europe's leading steam shower enclosure and bath designers, ebathrooms.com, have launched a US subsidiary that will distribute their designer steam showers in the United States for the first time. Ebathrooms's has built a solid reputation throughout Europe and are known for providing high-quality steam showers at affordable prices.
Ebathrooms is a French company based in Nevada/Reno with a warehouse depot in Southern California with over twenty years of international experience. French founder Christophe Doumaiselle understands the rewards that come from a devotion to quality and customer satisfaction. Ebathrooms specializes in importing luxury steam showers, bathtubs, ceramic basins, and outdoor SPA, sauna and shower panels. Ebathrooms is synonymous with both French elegance and creativity. Our products blend tradition and innovation. Our main priority is supplying top-of-the-line steam showers to customers at the lowest prices guaranteed. Each item is handpicked to combine unique products with the finest in quality.
Ebathrooms does not cut corners and have made quality their number one priority. Ebathrooms have managed to cut out the infamous 'middle man' and source all of their products direct from the manufacturers in addition to designing their own products. Their large warehousing facility allows them to order products in bulk, taking advantage of the best prices available and passing them on to you.
Ebathrooms puts a focus on customer service an every customer's peace of mind is important to them. Ebathrooms knows that when customers have questions, they want them answered quickly and efficiently. Customer satisfaction isn't just a buzzword, it's what gets the Ebathrooms.com crew out of bed in the mornings.
Ebathrooms feels that everyone should have a bathroom that they love. That is why they design their own products and bring the latest styles and designs from around the world direct to customer's front doors .Their products are produced to a consistently high quality and they offer guarantees in all of their product areas.
To view Ebathrooms entire line of designer steam shower enclosures, visit them online at http://www.ebathrooms.com.