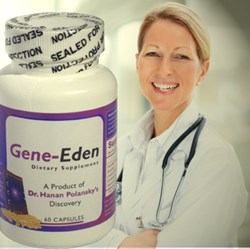 If your teen daughter suddenly begins to develop really painful genital sores, it doesn't mean she's been sexually active. If the sores accompany a case of Mono, they may be due to the presence of the Epstein Barr Virus. – Mike Evans, polyDNA
Rochester, NY (PRWEB) November 15, 2013
Most people know that HSV-2 can cause genital herpes in sexually active people. However, most don't realize that EBV, which is also a herpes virus (also known as HSV-4), can also cause very painful genital ulcers. However, EBV is transmitted through sexual encounters, but rather through saliva. Ulcers caused by EBV are a clinically-defined ulcerative disease. These ulcers are known scientifically as ulcus vulvae acutum (also referred to as Lipschütz's ulcer). They "represent a … (underdiagnosed) complication of acute, primary EBV infection (2)." This is according to a study published in January, 2011 in the journal Acta Dermato-Venereologica.
In most cases, genital ulcers caused by EBV afflict teenage girls. They may form during a severe case of infectious mononucleosis, which includes symptoms such as a sore throat, severe headache, low grade fever, fatigue, and a tender, stiff neck. When EBV ulcers develop, they can progress from an itching genital lesion to multiple, very painful genital sores. "EBV-associated ulcus vulvae acutum (EBV-AUVA) presents typically as one or a few very painful, deep ulcers with vivid, purple-red edges in adolescent girls. At least one of the ulcers is usually larger than 1 cm. The age at which the incidence of EBV-AUVA peaks is identical to that of patients with infectious mononucleosis (2)."
"If your teen daughter suddenly begins to develop really painful genital sores, it doesn't mean she's been sexually active. If the sores accompany a case of Mono, they may be due to the presence of the Epstein Barr Virus." – Mike Evans, polyDNA
Like many other viruses, EBV establishes a latent infection in its host that lasts for life. As a person ages and the immune system weakens, the latent EBV can reactivate and cause disease. (3).
polyDNA recommends getting tested by a doctor if there is any doubt as to what is causing the genital sores. "EBV can be detected directly from lesions, in the blood, or in oropharyngeal lavage samples (2)."
We also recommend Gene-Eden against the latent Epstein Barr Virus. This natural remedy was proven in a clinical study to reduce symptoms associated with latent, EBV infections (4). A recent post marketing clinical study published in the peer reviewed, medical journal Pharmacology & Pharmacy, in a special edition on Advances in Antiviral Drugs on August 12, 2013 showed that Gene-Eden-VIR is safe and effective (4).
Each ingredient of Gene-Eden-VIR was chosen through a scientific approach. Scientists scanned thousands of scientific and medical papers published in various medical and scientific journals around the world to identify the safest, most effective natural ingredients that target the latent form of EBV (4).
To learn more about Gene-Eden-VIR and the latent Epstein Barr Virus, visit http://gene-eden-kill-virus.com/EBV.php. All orders of Gene-Eden-VIR are completely confidential, and no information is shared or sold to any third party. Privacy is assured.
Reference:
(1) http://www.ncbi.nlm.nih.gov/pubmed/23837147
(2) http://www.ncbi.nlm.nih.gov/pubmed/21031278
(3) http://www.cdc.gov/ncidod/diseases/ebv.htm
(4) http://gene-eden-kill-virus.com/PP_Gene-Eden-VIR-is-Antiviral.pdf
polyDNA is a biotechnology company that develops dietary supplements using the unique scientific method developed by Dr. Hanan Polansky, which is based on Computer Intuition.
In addition to his unique scientific method, Dr. Polansky published the highly acclaimed scientific discovery, called Microcompetition with Foreign DNA. The discovery explains how foreign DNA fragments, and specifically, DNA of latent viruses, cause most major diseases.
polyDNA developed Gene-Eden-VIR, an antiviral natural remedy that helps the immune system kill latent viruses.