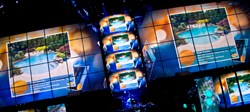 Las Vegas (PRWEB) December 04, 2013
The Association of Pool & Spa Professionals (APSP) honored the best in swimming pool, spa and hot tub design with the 43ʳᵈ annual International Awards of Excellence (AOE).
Recipients were officially revealed at the 2013 International Pool | Spa | Patio Expo Welcome Party, held Nov. 12 at Mandalay Bay Resort and Casino's LIGHT Nightclub in Las Vegas. These trailblazing designs are currently featured in several dynamic video reels on the APSP YouTube page and also will be available to view at APSP.org/InspirationGallery in the next few weeks.
This year, 88 awards were presented in 40 categories, five of which spotlighted international installations. There were a total of 114 entries from six countries.
Corporate sponsors of the program are: S.R. Smith; Latham Pool Products; Lonza; CNA; and UPS.
"This year's winning installations showcase our members' superior ability to transform backyards into magnificent environments that cultivate lifelong memories of fun and family," APSP President and CEO Rich Gottwald said. "Consumers seeking ideas as they consider building their own aquatic oasis will be able to view the 2013 winners, and even past recipients' installations, via APSP.org's new Inspiration Gallery coming this winter."
Learn more about this year's award-winning designs, including specific manufacturer products that went into many installations, by reading the latest issue of AQ Magazine. Also, be sure to view all of APSP's AOE video reels on YouTube.
•••
About APSP
The Association of Pool & Spa Professionals (APSP) is the world's oldest and largest association representing swimming pool, hot tub, and spa manufacturers, distributors, manufacturers' agents, designers, builders, installers, suppliers, retailers, and service professionals. Dedicated to the growth and development of its members' businesses and to promoting the enjoyment and safety of pools and spas, APSP offers a range of services, from professional development to advancing key legislation and regulation at the federal and local levels, to consumer outreach and public safety. APSP is the only industry organization recognized by the American National Standards Institute to develop and promote national standards for pools, hot tubs, and spas. For more information, visit APSP.org.