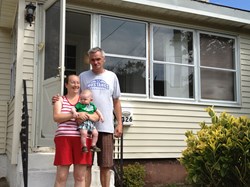 Shrewsbury, NJ (PRWEB) November 14, 2013
HABcore, a not-for-profit organization serving Monmouth and Ocean Counties, New Jersey, provides permanent housing and individualized support to homeless families, veterans, and individuals with special needs. The organization, working with peer agencies, helps these individuals move through crisis to stability giving them the opportunity to improve their lives and achieve a higher quality of life.
This year's drive helped families like Carrie, George, and infant son Stephen (pictured) become one of the first families to benefit from the HABcore apartment program expansion. Carrie and her family were homeless, spending over a year living in motels or with friends. When families move into these apartments they don't have many belongings. Spearheaded by Sales Associate Amy Almasy, the Heritage House Sotheby's International Realty Shrewsbury Office helped raise funds to purchase linens, pots, pans, cleaning supplies and other household items to help make their new home comfortable. They have a fresh start and a permanent place to call home.
Over the past 25 years, HABcore has provided clean safe homes and supportive services for over 450 Monmouth and Ocean County residents and is currently assisting over 125 residents.
Heritage House Sotheby's International Realty is an independently owned and operated full-service brokerage with four offices in Holmdel, Middletown, Rumson, and Shrewsbury, serving Monmouth, Middlesex and Ocean Counties, New Jersey real estate needs. The firm's Corporate Headquarters is located at 834 Broad Street, Shrewsbury, New Jersey 07702. For additional information, including office locations and phone numbers, please visit http://www.heritagehousesothebysrealty.com. To contact Chris Doran, Branch Manager Shrewsbury Office, call 732.842.3434.
The Sotheby's International Realty® network currently has more than 13,000 sales associates located in approximately 660 offices in 49 countries and territories worldwide. Each office is independently owned and operated.