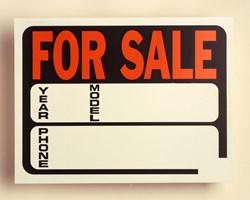 Sausalito, CA (PRWEB) November 15, 2013
Cartelligent has released its consumer guide to selling trade-in vehicles. The service, based in Sausalito, California and with branches in East Bay, Silicon Valley and Orange County helps thousands of people purchase cars each year across all manufacturers and help them get a great value for their current vehicle. Its team of professional car buyers has put together a guide to help consumers understand the steps they need to take to sell their car on their own.
While most people are excited by the prospect of driving home in a new car, they are typically less enthusiastic about their options on what to do with their current vehicle. One of the most common questions clients ask Cartelligent is what they should do in advance to get their trade-in ready and ensure they get a fair price with a minimum of effort and expense.
Cartelligent has compiled a list of guidelines and things for consumers to consider before selling their car to make sure that it's in the right condition and they have everything ready to make the process go smoothly.
Paperwork:
Consumers should locate the following paperwork in advance of selling the vehicle:

Vehicle Title: If they do not know where this is, they will need to request a duplicate copy from the DMV before they can sell the car. If they still have a loan or a lease on the vehicle, they should arrange to pay off the balance and request the title before they offer it for private sale.
Vehicle Registration: They will need a current copy of the car's registration. If this has expired, they will need to pay the next year's registration and any outstanding late fees and/or penalties before they can sell it themselves.
Smog-Inspection: It is the seller's responsibility to get the car smog-inspected and ensure that it passes.
Vehicle History Report: They can obtain a vehicle history report through CarFax for $39.99 to prove that the car has not been in any accidents.
Bill of Sale: Bills of Sale are available from the DMW. Both seller and buyer should fill it out completely when the sale is final.
Market Research:
Cartelligent recommends taking the time to research the vehicle's value so that the seller knows what to expect and can weigh the potential gain of investing additional funds in repairs prior to sale. Websites like KBB.com and NADA.com can help them estimate the value range for their make and model. It can also be a good idea to look at similar vehicles online to get a sense for the local market value. Be aware that the asking price is often higher than the actual price the car will sell for.
Aesthetics:
A thorough detailing can make the car look more attractive and can add perceived value. Potential buyers will perceive a clean car as a well maintained car and assume the rest of the vehicle is also in top condition. Additionally consumers may want to consider repairing minor cosmetic damage such as:

Minor dings or other body damage
Windshield cracks (these may be covered by their insurance)
Minor scratches and paint repairs
Missing hubcaps or scratched wheels
Headlight or taillight bulbs that have burned out
It can be a good idea to get an estimate on the cost of more extensive damage or needed repairs and then decide if the potential resale value of these will offset their upfront costs.
Mechanics:
A mechanical check-up can let the seller know if there are any issues with the vehicle and give them an estimate as to what these will cost to repair. Cartelligent recommends that the following be taken care of:

Windshield Wipers: Putting a new pair of windshield wipers on the vehicle tells potential buyers that the seller has looked after the little things and builds confidence that the car is in good condition.
Tires: Ensure that tires are in new or good condition. Replacing worn tires can add value to the vehicle.
Warning Lights: Cartelligent recommends repairing any underlying issues causing a lighted warning indicator before putting the car up for sale.
Noises: Cartelligent also recommends repairing any mechanical problems that are causing the vehicle to make noises when driven such as suspension squeaks and belt noises.
Safety: Cartelligent strongly advises that the seller repair any and all issues that could make the vehicle unsafe to drive such as faulty brakes, airbags or seatbelts.
Selling the Vehicle:
Once the vehicle is in good shape and it's ready to put up for sale, consumers should consider the following:

Ad Copy: Be as honest as possible in the body of the ad but use words that will be compelling to potential buyers and make them want to see the vehicle in person. Avoid abbreviations, first-person references to the vehicle and short-hand that may come across as unprofessional and detract from the perceived value.
Photos: Take high-quality photos of the vehicle that will show it to its best advantage in the ad. Low quality camera phone photos can make the vehicle look less appealing to potential buyers.
Online Ads: Cartelligent recommends the following best practices when selling a vehicle online.
Consider using a disposable cell phone rather than providing a personal number.
Find a public, well-lit place for test-drives and the financial exchange.
Request a cashier's check or cash for the final payment.
Once the sale has been finalized, the seller will want to inform the DMV that they are no longer financially or legally responsible for the vehicle. They can fill out a Notice of Transfer and Release of Liability form once the sale is complete – it's important to follow up in a few weeks to ensure that this went through.
Selling a trade-in can be time-consuming and confusing. Consulting this guide can help ensure that the process goes as smoothly and as safely as possible.
We welcome inquiries about these tips or about car buying in general. To set up an interview with one of our experts, please contact Jessica Carstens at 415-339-4562 or email jcarstens(at)cartelligent(dot)com.
About Cartelligent: For over thirteen years, Cartelligent has connected car buyers with the new car they want, at the right price. Thousands of satisfied clients have saved time and money while avoiding the hassle of the traditional dealer experience by working with Cartelligent to help them enjoy the car buying experience like never before.