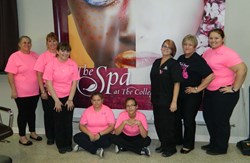 "At FCC, we believe in the power of community engagement and encourage our students to find opportunities to get involved. Locks of Love is a worthy organization, and we're glad that we had such a great turnout." - Donna Gilmer, FCC Spa At The College
Lauderdale Lakes, FL (PRWEB) November 13, 2013
Florida Career College (FCC) cosmetology students and instructors and members of local Girl Scout troop 1743 recently gathered at the FCC-Lauderdale Lakes campus' Spa At The College to host an event benefiting Locks of Love, a non-profit organization that provides hairpieces to disadvantaged children suffering from long-term medical hair loss.
More than 40 people attended the "Hope for Hair" event, which was open to the public, and eighteen attendees volunteered to have six or more inches of their hair cut off to be donated to Locks of Love.
"At Florida Career College, we believe in the power of community engagement and constantly encourage our students to find opportunities to get involved," said FCC-Lauderdale Lakes Spa At The College Manager Donna Gilmer. "Locks of Love is a worthy organization, and we're glad that we had such a great turnout."
During the event, attendees enjoyed music, food and refreshments, and donors received a variety of beauty services following their haircuts, including hair styling and color treatments conducted by advanced FCC cosmetology students and supervised by licensed instructors.
FCC organized Hope for Hair with Girl Scout troop Senior Patrol leader Angelina Herrera, 18, who earned the "Gold Award" during the event for her outstanding leadership skills and community service efforts. In order to be eligible to receive the award, Girl Scouts are required to design, organize and implement a community service project of their own.
"It was such a pleasure working with the Florida Career College team to support Locks of Love's mission to help restore the self-esteem and confidence of children who are suffering from hair loss and are afraid to face the world," said Herrera. "There's no better way to benefit such a great cause than to bring the whole community together for an event that's celebratory and fun."
In addition to this project, Herrera and her troop organize and participate in a number of service projects throughout the community, such as Special Olympics for special needs students, camp-outs and community-wide clean-up days.
FCC is a career-focused school offering curricula that teach practical and applicable skills for specific industries. Its Spa At The College, which is open to the public, offers services at modest prices including haircuts, coloring, extensions and styling, manicures and pedicures, and facial treatments.
For more information about FCC-Lauderdale Lakes, call the campus locally at 954-915-7681. Visit Anthem.edu, facebook.com/AnthemEducationGroup and follow us on Twitter at twitter.com/AnthemEducation.
###