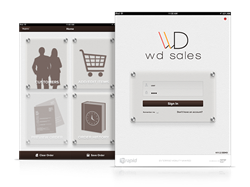 It's a huge step forward in wholesale ordering with our app.
Irvine, CA (PRWEB) November 13, 2013
Rapid Consulting today announced that its WD Sales 1.0 solution is an SAP-certified mobile app. The mobile app integrates with SAP® solutions on the back end, providing wholesale vendors and their sales reps a fully-featured mobile ordering solution.
The SAP Integration and Certification Center (SAP ICC) has certified that WD Sales version 1.0 integrates with Sybase® Unwired Platform 2.2.
"We are proud to announce the SAP certification for WD Sales," said Anton Ansalmar, founder of Rapid Consulting. "The ability of Rapid Consulting's WD Sales to integrate with SAP software on the backend allows our app to handle live business data so that clients can make better business decisions. It's a huge step forward in wholesale ordering with our app."
WD Sales provides wholesale vendors the ability to make purchase orders on the road from a mobile device. The app displays actionable data and live pricing information obtained from the back-end SAP software. The app also features the ability to add special discounts to an order as well as make smart searches to quickly narrow down a list of distributors, customers, and items. With a scanning peripheral attached, WD Sales can also scan items directly into the cart. This improves the speed and accuracy of the wholesale order process.