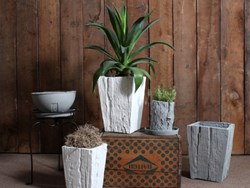 Thanks to a wide-array of modern, minimalistic garden containers for sale on NativeCast's e-commerce website, one-stop shopping is just a click away.
Philadelphia, PA (PRWEB) November 14, 2013
There's nothing like watching someone tear open a gift picked just for them. Having a tough time finding the right gift? It helps to select a present that matches the recipient's personality. Luckily, this year, NativeCast has the perfect gift for everyone on the Christmas shopping list.
Best of all, each product is individually hand-cast and comes complete with its own story.
Ricky Giacco, founder and visionary of NativeCast, developed a unique, green concrete, made of recycled materials and locally sourced seashells, pine cones and needles. Giacco uses this green concrete to cast containers from organic shapes, like mushroom board and crab apple bark.
Thanks to a wide-array of modern, minimalistic garden containers for sale on NativeCast's e-commerce website, one-stop shopping is just a click away.
NativeCast has the perfect gift for the crafty kid or teen, the gumptious gardener or the nature enthusiast.
For the Crafty Kid or Teen:
Creative, artsy kids will love any shape from NativeCast's "Cast Your Own Line." The kit is quick and easy from start to finish, so it's a project kids can tackle on their own or work together with parents on a snowy day. Plus, the kit involves dirt, concrete and comes in an array of colors, so boys and girls alike will have fun with it.
Teens also adore this gift. It's the best way to add life to a dorm room or bedroom. Plus, young adults love to leave a positive impact on the planet—and this kit does just that.
The 'Cast Your Own' line from NativeCast has shapes that kids and teens will love--like hearts, cupcakes, stars, and the standard shapes too!
NativeCast's DIY kit retails for $15, so it's a fantastic stocking stuffer or affordable gift from the extended family.
For the Gumptious Gardener:
Gardeners love to highlight a show-stopping container in their garden. A chic statement container is often the focal point of any outdoor living space, so this year, give a gift that will only get better with age-- NativeCast's Cast Wood Trough.
This Old House recently selected the Cast Wood Trough as one of 2013's best new products-- and for good reason. NativeCast's Cast Wood Trough is 10 pounds light, so it's easy to move around the garden. However, it remains sturdy and will naturally patina over years of use and love.
This roomy trough can be snagged for $95 and is guaranteed to wow any gardener.
For the Nature Enthusiast:
Found climbing a tree or unwinding on a long hike, nature lovers are always looking for an easy way to bring their love of the outdoors, in.
With the new Crab Apple Planter from NativeCast, outdoor fanatics can add a touch of natural beauty to their office, living room, or coffee table.
The texture and imperfections of the cast wood planter prove that natural is best. Plus, the light gray hue will complement any color scheme.
Retailing for $35, the Crab Apple Planter gives nature enthusiasts a way to revel in nature's beauty all year long.
Still craving more? The complete line of cast-wood planters and DIY 'Cast Your Own Kits' from NativeCast can be admired and purchased here.
NativeCast began creating garden containers that marry high art and functional design in 2010. Each NativeCast piece is conceived, created and individually hand cast by founder, Ricky Giacco. All of NativeCast's sleek, sustainable planters are made with light-weight, green concrete and natural materials, like sand, shells, and pine needles. To purchase DIY kits or other hand-cast containers, visit http://www.nativecast.com, like them on Facebook or follow them on Pinterest.