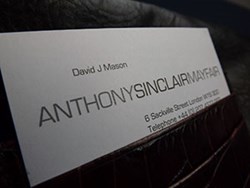 Consumers in Singapore are style-savvy and sophisticated.
Singapore (PRWEB) November 15, 2013
Anthony Sinclair, the British tailoring firm that dressed Sean Connery for all of his appearances as James Bond, have extended their International trunk show venues to include Singapore.
Following successful trips to Shanghai and Hong Kong earlier this year, Sinclair's Managing Director, David Mason, has added Singapore to his travel itinerary in response to the unprecedented interest from new and existing customers across Asia.
The continuing demand from the region for British bespoke tailoring is, such that, Mason is considering opening permanent retail stores in Asia and will be visiting potential sites during his stay.
Mason says, "Asia has suddenly become our fastest growing market. Consumers here are style-savvy and sophisticated. They want the best products available, and when it comes to tailoring, they know that Britain's history and reputation is unrivalled."
Anthony Sinclair Ltd. will be represented by David Mason at the Ritz Carlton Millenia, 7 Raffles Avenue, Singapore, from 12th - 18th November, 2013.