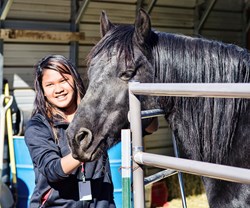 Shasta, the baby emu, was the star of the field trip.
Mt. Pleasant, Utah (PRWEB) November 16, 2013
Biology classes at Wasatch Academy, led by Dr. Kirt Wackford and Dr. David Roth, continue their march through the diversity of life. They have arrived at the Kingdom known as Animalia, or Animals, as they are known in English. Students have been studying the nine different animal Phyla, using dried specimens, animals preserved in jars, plastic molds and in cases and display.
This week, students took a field trip to Shirley and Floyd Ritter's ranch, located in east Mount Pleasant Utah, to observe and learn about horses, goats, peacocks, and emus. Emus are the largest bird native to Australia. It is the second-largest extant bird in the world by height, after its ratite (large, flightless birds) relative, the ostrich.
Dr. Wackford reports, "There are seven living species of ratites in the world. None of them are native to North America, but we are fortunate to have a local family with emus who are eager to have our students' visit and learn. At just seven months old and already waist high, Shasta, the baby emu, was the star of the field trip."
Mr. Ritter informed the students that the emus seem to retain their mating habits from Australia. The rugby ball-shaped eggs are incubated for approximately sixty days by male emus. Eggs hatch in February or March and then are cared for by the males as well.
Biology classes will begin study of chordates by using an army of stuffed animals, on loan from Dr. Wackford's family collection. The latter part of November, students will visit three species of camelids at Alpaca Valley Farms located in Moroni Utah, where Todd Robinson, Professor at Brigham Young University, will show students llamas, guanacos, and alpacas, and argue that these are three distinct but related species from South America. Wasatch Academy is fortunate to have friendly neighbors willing to share their animals and knowledge — far better than visiting a zoo.