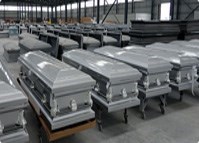 (PRWEB) November 14, 2013
MillionaireCasket.com, a leading casket company from China, today announces its November Sale. Now, all its solid wood caskets are offered with big discounts, up to 40% off. According to the CEO of the company, the special offer is valid from today until Nov. 31, 2013.
MillionaireCasket.com are available in a variety of thicknesses and weights. Its products catalog is now available for free to all casket distributors and agencies worldwide.
Each of the solid wood caskets is treated with chemicals, so they will not be rusting or corroding. A third party quality assurance is also offered by the company. The company also offers OEM services at low costs for its clients worldwide.
Zoe Wong, CEO of the company, says, "All our products are in line with the comprehensive ISO9001-2000 compliance quality management system, which allows us to supply top quality caskets for clients worldwide. Our wood caskets will help you save much money, because you are buying products directly from an original manufacturer."
In addition, MillionaireCasket.com also makes urns, embalming tables, church trucks, stretchers, church furniture, keepsakes and other related funeral products. They hope to be a one-stop funeral supplier.
About MillionaireCasket.com
MillionaireCasket.com is a reliable casket business from China, which is devoted to the business of casket wholesale. The company is offering an exquisitely crafted line of all kinds of caskets. The products include metal caskets, veneer caskets, cremation caskets, solid wood caskets, rental caskets, orthodox caskets, infant or over-sized caskets and European style coffins.
For more information, please visit: http://www.millionairecasket.com/