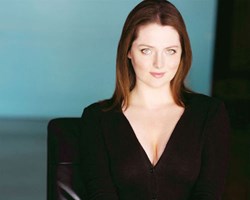 Oh my gosh. It's so great. It's just stupid how much fun we have. We quite often look at each other and we say 'we receive currency for this?'
(PRWEB) November 16, 2013
Actress Lauren Ash is currently making a name for herself as Marika on Rebel Wilson's new ABC comedy, 'Super Fun Night,' about a group of friends who vow to have "super fun" every Friday night.
Before scoring the comedic role, Ash was busy studying sketch comedy at Second City in Canada and learning the art of improvisation. Ash recently chatted with TVRage.com's Brianne Hogan, where she not only discussed her recent role, but also working alongside Molly Shannon, how her life has changed since becoming famous, and how her "super fun night" consists of "half a bottle of wine and Googling kittens and firefighters saving kittens."
Here's an excerpt from the interview:
TVRage: You work with Molly Shannon in the upcoming episode, "The Love Lioness" (it airs Nov. 14). How was it working with her?
Ash: An unbelievable joy. She was truly one of my idols growing up on 'SNL.' I wanted to be her. I used to get up in my French class and perform as Mary Catherine Gallagher. So meeting her, I was so excited. She's, honest to good, one of the nicest people I've ever met. Total pleasure.
TVRage: On the episode, she plays a relationship guru on the show with unique tactics on how to land a guy. Would you ever try something like that? Have you?
Ash: I'll take any advice I can get. I'm painfully, painfully single. I think everyone has their own idea on what it takes to land someone. I've read books on it, but you still have to meet people. It's all well and fine to know how to handle it, but unless you get into the game, it's kinda tough. And we have such long hours on the set, it's hard to meet people. But I would take any advice on the matter."
'Super Fun Night' airs Thursdays at 9:30/8:30c on ABC.