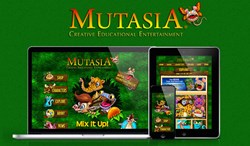 "Mutasia's creative educational entertainment utilizes a variety of rich media and is an invaluable tool in today's educational environment." - Joseph Fatheree, President and Chief Educational Officer
Palm Beach Gardens, Florida (PRWEB) November 14, 2013
Welcome to the wacky mixed up world of Mutasia, a place that inspires creativity, discovery and learning in children ages 6 and up.
The inhabitants of the island of Mutasia are some of the most illogical and utterly impossible creatures you will ever meet. As you explore the island with your family, the Mutasians will enable you to embark on a journey filled with fun and exciting adventures.
The stories come alive for everyone when kids interact with Mutasia's books, songs, plush toys, animations and mobile coloring apps.
Our commitment is to continuously create a fun filled environment that encourages children to explore and appreciate the world around them.
Joseph Fatheree, President and Chief Educational Officer, said, "Mutasia's creative educational entertainment utilizes a variety of rich media and is an invaluable tool in today's educational environment." He continued, "Mutasia.com offers a world that fosters inspiration, creativity and independent learning in an exciting and fun environment." Fatheree is a former Illinois Teacher of the Year and recipient of The National Educational Association's National Award for Teaching Excellence.
The team at Mutasian Entertainment is a group of talented and dedicated educators, illustrators, authors, musicians, designers, and entrepreneurs. The wacky world of Mutasia is built on their commitment to infuse education with creativity and entertainment.
About Mutasian Entertainment LLC:
Mutasia is a creative educational entertainment company that inspires creativity and individuality in children ages 6 and up. The world of Mutasia offers kids the ability to explore and embrace their unique characteristics through books, music, animated movies, plushes and mobile apps. For more information please visit http://www.mutasia.com.