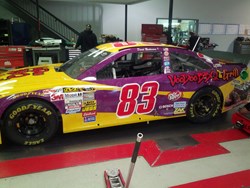 They fuel the car and we fuel the team
Miami, FL (PRWEB) November 15, 2013
It's Official! VooDoo BBQ & Grill is sponsoring the #83 BK Racing Team Toyota Camry in this Sunday's Ford EcoBoost 400 at the Homestead-Miami Speedway in what many consider to the be NASCAR Championship. Driven by David Reutimann the #83 VooDoo BBQ & Grill car will take the track for the BK Racing team.
"It's incredibly exciting for VooDoo BBQ to be a part of the 2013 Ford EcoBoost 400 in Homestead this year. As a the Florida franchisee of VooDoo BBQ it really makes us proud to be associuated with a company that is growing and sponsoring such a high profile national sporting event . If you're a NASCAR fan you know that this is where it all ends, this is basically the Super Bowl of NASCAR and we are fortunate enough to be a part of it." said Joe Sloboda, Vice President of the BBQ Boyz, which is the Florida Franchisee for VooDoo BBQ & Grill. "The franchisor and corporate offices of VooDoo are taking steps in the right direction to put our brand on a national stage, it's a very unique position for us to be in." In addition to the car sponsorship, VooDoo BBQ & Grill is also catering food to the entire BK Racing Team, "They fuel the car and we are fueling the team, with some competition style, New Orleans BBQ!" said Sloboda.
Meet David Reutimann at VooDoo BBQ
Driver David "Reutti" Reutimann will be signing "Hero Cards" at the VooDoo BBQ & Grill Kendall location this Saturday from 6:30-7:30pm in Miami at the Palms of Town & Country shopping center, located at 8405 Mills Drive, Miami, FL. Fans are invited to come and meet Reutti, get an autograph and enjoy some VooDoo BBQ.
About David Reutimann
David Reutimann drives the #83 VooDoo BBQ & Grill Toyota for the BK Racing Team. He has made 196 Sprint Cup, 127 Nationwide and 79 Truck Series starts for a career total of 402 NASCAR green flags. Reutimann has racked up 13 top-five and 27 top-ten finishes. BK Racing also fields the #93 Toyota Camry and this is the team's second year. For more information, visit http://www.davidreutimann.com
About VooDoo BBQ
VooDoo BBQ & Grill opened its first location in New Orleans on Mardi Gras Day 2002 and has expanded to reach 57 planned locations in six states. VooDoo BBQ serves competition-style barbecue beef, pork and chicken with unique side dishes, plus salads and sandwiches, in a clean, colorful fast-casual environment. For more information, visit http://www.voodoobbq.com
VooDoo BBQ & Grill continues their successful growth and development, having recently opened their 3rd South Florida location in Ft. Lauderdale, FL last month, with plans to open stores in Hollywood, FL and Boca Raton, FL this coming January and March, visit http://www.eb5restaurants.com