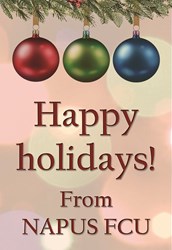 (PRWEB) November 16, 2013
NAPUS Federal Credit Union announces two holiday loan specials for members during the months of November and December. As an added bonus, NAPUS FCU members will have several chances to win a Cyber Monday transaction reimbursement.
Black Friday and Signature Loan Specials*
Beginning Monday, November 18, 2013, NAPUS FCU members can apply for the Black Friday holiday loan. With amounts up to $10,000, a 5.90% Annual Percentage Rate (APR), and terms of 36 or 48 months, members get a lower rate and have the flexibility to use the loan for practically anything. The sale continues through December 24, 2013, so this is the perfect opportunity to finish holiday shopping with no financial stress.
Members who would like a loan for larger purchases can apply for a signature loan for up to $25,000, and NAPUS FCU will defer the payments for 90 days. NAPUS FCU signature loan rates start as low as 6.25% APR, and since this loan special ends on December 31, 2013, members will not need to start making payments until after the holiday season.
Cyber Monday Drawing**
On Monday, December 2, 2013, all NAPUS FCU members will have several chances to win a transaction reimbursement. NAPUS FCU will randomly draw one winner every hour between 9am and 5pm EST and will pay the winning transaction up to $500. Transactions made with a NAPUS FCU Visa credit card on December 2, 2013 will be eligible to win. Winners will be announced on the NAPUS FCU Facebook page (http://www.facebook.com/napusfcu).
Members can take advantage of the limited time loan specials by contacting NAPUS FCU at 800-336-0284 or by visiting http://www.napusfcu.org for more information. Anyone who is not a member can visit http://www.napusfcu.org/join for a list of eligibility requirements. Consumers may be eligible to join NAPUS FCU through the American Consumer Council (ACC). Please visit the ACC's website at http://www.americanconsumercouncil.org for more information on membership eligibility.
*Black Friday loan estimated payment is $23.44 per $1,000 financed based on a term of 48 months. The 90-day deferment signature loan interest accrues daily. Delaying your payment for 90 days may result in several months without a reduction in your principal balance.
**No purchase or obligation necessary to win. Non-purchase entries and purchase entries have an equal chance of winning. To enter by US mail, hand print your name, address, city, state, ZIP code, and phone number on a 3"x5" card and mail in a #10 envelope with postage affixed, to: NAPUS FCU, Attn: Cyber Monday Contest, PO Box 148, Alexandria, VA 22313-0148. Mail-in entries must be received by 12/1/13 in order to be eligible. Enter as many times as you wish; however, each mail-in entry counts as one entry into the drawing and must be mailed in a separate postmarked-and-stamped envelope. Winners will be paid the combined average amount of the daily winnings.
Federally insured by the NCUA.