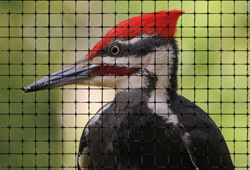 Irvine, California (PRWEB) November 15, 2013
"Our woodpecker kit is always popular and very effective in deterring woodpeckers before they choose to drill holes in the side of your house," says Shaun Johnson, Retail & Mass Merchant Sales Manager at Bird-B-Gone. "When they just won't go away, we recommend woodpecker netting, which is the only way to fully exclude woodpeckers from a particular area," he adds.
Each Woodpecker Kit contains a roll of Flash Tape, a Bird-B-Gone Balloon, which features a predator eye that scares birds away, and brackets for hanging. The visual bird deterrents in the woodpecker kit are designed to confuse birds and give the impression danger is in the area. The bright colors, predator eye and reflective surface of the balloon make birds avoid the area. The flash tape flaps in the wind and reflects the sunlight giving a sense of danger.
Absolute Bird Control is the world's leading online distributor of humane bird control products for the homes, gardens, boats and other areas. We proudly carry the Bird-B-Gone® brand, an extensive line of effective products to help prevent birds from landing or nesting. Visit http://www.absolutebirdcontrol.com for more information.