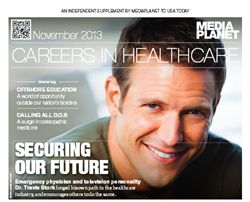 New York, NY (PRWEB) November 15, 2013
During this time of rapid change in our healthcare system, there is an influx of new roles and a need for new skills appearing everywhere. Mediaplanet's 2013 edition of 'Careers in Healthcare,' a centerfold special within USA Today and Digital Campaign, launched today for millions to read and learn from.
Through this special interest section, Mediaplanet and its partners aim to educate millions about the changes in the education and career paths of the healthcare professional team today, as well as new opportunities in fields such as Health Informatics and Health Consulting. The campaign aims to serve as an education guide and an inspiration to readers who have always dreamed of pursuing a career in healthcare, or who are looking for a promising career-change.
The semi-glossy, full-color special section features E.R. physician and talk show host, Dr. Travis Stork from The Doctors. America's physician shortage, an issue currently being contemplated by all major health organizations, is a focus point of Dr. Stork's. "We need good doctors. And you can't put a price tag on what it feels like to go home and know that your work matters," he advocates in an exclusive interview with Mediaplanet.
The 16-page special will remain on the stands through Saturday and Sunday, and will be distributed in highly targeted markets within USA Today, with approximately 450,000 copies distributed and an estimated readership of 1.4 million. To explore the digital version of the campaign, click Careers in Healthcare.