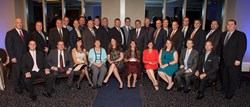 Salt Lake City, UT (PRWEB) November 15, 2013
Maverik is the Convenience Store Decisions' (CSD) Convenience Store Chain of the Year award recipient for 2013. The company and its employees were honored at a private awards gala during the National Association of Convenience Stores show in Atlanta on October 13, 2013.
"Our company philosophy is simple," said Brad Call, Maverik's vice president of Adventure Culture. "We are entirely dedicated to the customer experience. This means interacting with our customers every day in order to understand their expectations and the best ways to exceed them. We recognize our success is measured by the relationships we build and the impression we leave in the minds of each customer and employee. Maverik's loyalty remains in the communities we serve."
As a gesture of appreciation for customer loyalty, all Maverik locations will offer a free small hot beverage to all customers who present their loyalty cards at checkout on Tuesday, Nov. 19 from 8–10 a.m.
Maverik has more than 260 locations across 10 western states. In the community, the Maverik team supports hundreds of local events with giveaways, product sampling, branded concession stands and promotions featuring the Maverik Monster Trakker truck and the Big Air—Maverik's own hot air balloon. Additionally, the company has teamed up with the Maverik Center in West Valley City, the Real Salt Lake Major League Soccer team and numerous college teams to promote its "Adventure's First Stop" culture.
In addition to Maverik celebrating its recent win, the company announced the appointment of Tom Welch, new president and CEO of Maverik, Inc., at the gala.
"It is with great enthusiasm and sincere appreciation that I accept this role as president of Maverik. My number one objective is to preserve Maverik's community-oriented culture, as it is a model that always puts customers first. I am honored to be part of a team that isn't afraid of innovation, and I hope to lend new ideas and additional support to Maverik's dynamic business approach," said Welch.
About Maverik, Inc.
Maverik was founded by Reuel Call in Afton, Wyo., in 1928 and has grown to more than 260 stores in 10 states to become the largest independent fuel marketer in the Intermountain West. It's known for its premium BonFire foodservice line—made fresh daily in every Maverik, every day. Maverik currently employs 3,700 adventure guides with aggressive growth plans for further concentration in its current trade area as well as expansion into Las Vegas, Spokane and other markets. Maverik lives up to its promise to thrill customers at Adventure's First Stop.
###