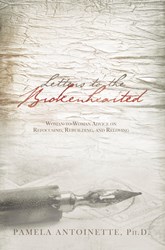 There is wisdom on every page of this book.
Los Angeles, CA (PRWEB) November 17, 2013
USA Book News, the premier online magazine featuring mainstream and independent publishing houses, announced the winners and finalists of THE 2013 USA BEST BOOKS AWARDS on November 14, 2013 – and Dr. Pamela Antoinette's Letters to the Brokenhearted is among the elite group of finalists with awards in two categories: Best Book Cover and Self-Help: Relationships. Jeffrey Keen, President and CEO of USA Book News, said this year's contest yielded over 1500 entries from mainstream and independent publishers.
Letters to the Brokenhearted has been called a "life-changing sensation", "intriguing", and "an empowering book for women" by readers and has managed to capture the attention of the big players like Publisher's Weekly and Writer's Digest. In its first nine months of publication, Letters to the Brokenhearted: Woman-to-Woman Advice on Refocusing, Rebuilding, and Reloving has now been recognized with three awards. The book's first award – Honorable Mention for Non-Fiction - was announced on June 22 at the Beach Book Festival in New York. Additionally, the book received positive reviews from Publisher's Weekly and Writer's Digest. Publisher's Weekly described Letters to the Brokenhearted as "an enjoyable self-help book" with "comforting, kind, and useful advice… conveyed with a loving spirit." Writer's Digest called Letters to the Brokenhearted "a wonderful book" with "wisdom on every page."
In Letters to the Brokenhearted, Dr. Pam, as she is affectionately called by her readers, encourages women to refocus, rebuild, and relove after heartbreak. She masterfully lays out her own process of bouncing back, and quite realistically drives the point home that there are no easy quick fixes when significant relationships end, even if the departure was a speedy one. Dr. Pam carefully, yet entertainingly walks, and sometimes dances, the reader through the nitty gritty. It remains an honest, inspirational portrayal that stays away from the annoying "great advice" that one receives from well meaning friends and family. What ultimately sets this book apart is Dr. Pam's step-by-step approach to examining the tiny missteps that may lead to big mistakes and how one may avoid getting into them in the first place. What is even better, she shares her personal victories and triumphs, which seem realistic and easy to relate to, motivating the reader to achieve actual, attainable results.
Letters to the Brokenhearted is an easy read, depending on where the reader is in her own personal journey. Readers have reported that at times, they find themselves nodding in agreement and moments later, gasping as they see their very lives perfectly depicted in print. "It was like she had a direct window to my soul, " said reader Kiya Bolds. A four-star male Amazon reviewer even stated that Dr. Pam's personal stories and advice are equally applicable to men. This book is a must read. Letters To The Brokenhearted must be placed on the top of the pile!
Major publishing houses that contributed to this year's USA Best Book Awards competition include St. Martin's Press, Random House, Simon & Schuster, Penguin, John Wiley & Sons, Farrar, Straus and Giroux, Hay House, and Llewellyn Worldwide.
About Dr. Pamela Antoinette
Dr. Pamela Antoinette is a professor of qualitative research at Mercer University in Atlanta, GA. With a Ph.D. in Leadership, her research essentially focuses on how to live a life one can love through topics that include interpersonal relationships, post-traumatic growth, self-motivation, service member reintegration, and college access. She regularly presents her research and conducts motivational workshops at conferences and for groups throughout the country. Additionally, Dr. Pam is the founder of the Empowered Writer's Academy and EmpowerMe! CollegePrep. She has published two book chapters and two books. Her next book, Inspired to be the First, is due to be released on January 15, 2014. For more information, visit her website at http://www.PamelaAntoinette.com.