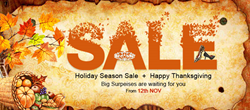 (PRWEB) November 17, 2013
Today, Tbdress.com, a famous dress company offering fashionable clothes for women, has announced its Cyber Monday Sale. According to the CEO of the company, the great discounts are up to 90% off.
Founded by top clothing experts who have been working in the industry for several years, the company features plenty of cheap, high quality products, including women's special occasion dresses, shoes, bags, wigs, jewelry and so on. So if customers from around the world are in need of these items, they can visit Tbdress.com before making a decision.
Tbdress.com is extremely famous for its high quality dresses, which have these characteristics: fine tailoring and meticulous production. Many customers like its outfits very much. Hence, the company has won many positive reviews from ladies worldwide.
"We are glad to launch the big sale. In the promotion, all our products are available at greatly discounted prices. With low rates, our items can attract more consumers. We aim to give each current and potential client an opportunity to know our excellent quality and services. At our online shop, low price does not mean low quality," the CEO states.
In addition, the company is going to release a fresh range of dresses next week. The new collection includes many hot outfits in the current market, such as traditional wedding dresses, modest bridesmaid dresses, red cocktail dresses, elegant dresses, cute party dresses and so on.
About TBdress.com
TBdress.com is offering extensive and stylish collections of wedding dresses and other special-occasion dresses at acceptable low prices, and its products include a wide range of wedding dresses, wedding lingerie, evening dresses, prom dresses, and more. They vow to provide trendy wedding dresses without sacrificing the dress quality. For more details, please visit the website of TBdress.com.