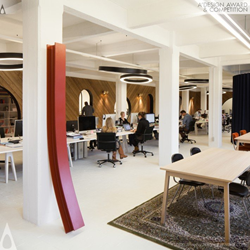 Como, Italy (PRWEB) November 19, 2013
A' Design Award and Competitions are encouraged to announce that the work Pinkeye Studio by Pinkeye has been announced as a winner of the renowned Silver A' Design Award in Interior Space and Exhibition Design Category among a great number of works.
Details of Pinkeye Studio
The Pinkeye is a multidisciplinary design studio, with a very dynamic way of working and a highly diverse output. Working in a crossover way demands a studio that allows to do all that. This calls for a communal area with smaller workstations to group together and brainstorm about a certain project. The central element in the design of the 600-square-metre space is a dividing wall that runs the length of the work space. Clad in diagonally framed wooden beams, the wall's interplay of lines creates structure and atmosphere. Half moon cut outs make for windows that reveal more intimate rooms.
To learn more about the award winning design, please follow: http://www.adesignaward.com/design.php?ID=28351.
The Silver A' Design Award
The Silver A' Design Award is a prestigious award given to top 5% percentile designs that has carried out an exemplary level of perfection in design. The designs are judged by a panel of three different jury which is composed of Academic, Professional and Focus Group Members. The designs are evaluated with score normalization to remove any biases and are voted on aspects such as functionality, ergonomics, engineering, presentation, innovation, usability, fun details, technology, and any other specific points that could be considered, each of these points are further weighted for different jury groups.
About A' Design Award and Competitions
A' Design Award and Competitions, aims to highlight the excellent qualifications of best designs, design concepts and design oriented products. A' Design Award and Competitions are organized and awarded annually and internationally in multiple categories to reach a wide, design-oriented audience. Learn more: http://www.whatisadesignaward.com.