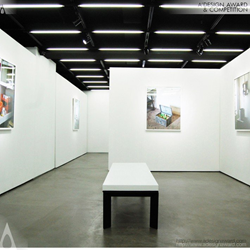 Como, Italy (PRWEB) November 26, 2013
A' Design Award and Competitions are happy to inform that the project Unparalleled Flexibility by Nicholas Ho has been honored with the renowned Silver A' Design Award in Interior Space and Exhibition Design Category.
Winner Design: Unparalleled Flexibility
Artify Gallery was established with a vision to build a supportive art platform for emerging artists in Asia. Under this ambitious aim, the Unparalleled Flexibility space for gallery's interior was designed with one core identity - to be universally flexible. From hardware components to technical provisions, every single visible component in the 1500 square feet setting is mobile, easily stored and applicable on both sides. Including all exhibit partition walls, the reception station, gift shop shelves, and display drawers, the gallery allows for an extremely versatile ground for traditional hanging exhibitions to contemporary installations.
To learn more about this design, please visit: http://www.adesignaward.com/design.php?ID=27337.
The Silver A' Design Award
The Silver A' Design Award is a prestigious award given to top 5% percentile designs that has attained an exemplary level of perfection in design. The designs are judged by a panel of three different jury which is composed of Academic, Professional and Focus Group Members. The designs are evaluated with score normalization to remove any biases and are voted on aspects such as functionality, ergonomics, engineering, presentation, innovation, usability, fun details, technology, and any other specific points that could be considered, each of these points are further weighted for different jury groups.
About A' Design Award and Competitions
A' Design Award and Competitions, aims to highlight the excellent qualifications of best designs, design concepts and design oriented products. A' Design Award and Competitions are organized and awarded annually and internationally in multiple categories to reach a wide, design-oriented audience. Learn more: http://www.whatisadesignaward.com.