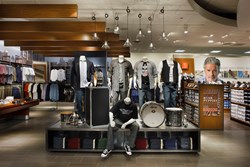 The DXL store is an innovative retail concept built to address our customers' needs and we are excited to open our latest store in Peabody.
Canton, MA (PRWEB) November 19, 2013
Destination XL Group, Inc. (Nasdaq: DXLG), the leading retailer of men's XL apparel, has opened a new Destination XL® store in Peabody, MA today. Located at 242 Andover Street, the DXL® store is a new one-stop shop catering to the fashion needs and lifestyles of bigger guys. This new store joins another DXL location in the area – Natick, MA.
According to Mintel, a market research provider, 74% of men say they have frustrations when shopping for clothes. The most important factors for men who shop XL sizes are access to a wide selection of great brands, plus the confidence that their selections will fit comfortably.
There are currently few options in Peabody for these men to purchase fashionable clothing that fits. Until now, they were forced to shop at department stores that carry a limited selection in their size, making Destination XL a greatly needed addition to the marketplace.
Destination XL offers more than 100 brands with selections ranging from private labels, sure to appeal to the value-conscious shopper, to the hottest luxury brands such as Polo Ralph Lauren, Lacoste, Michael Kors and Lucky Brand Jeans. Also available exclusively at Destination XL are brands such as Twenty-Eight Degrees, Society of One, DKNY Jeans, Robert Graham, True Religion and Brooks Brothers. Sizes start at 40" waist or XL including tall sizes, plus shoe sizes 10-16, in widths to 4E.
The DXL store provides a unique shopping experience built just for men with conveniences such as a more spacious environment, including wider aisles and dressing rooms double the size of a standard department store; the store also offers outstanding service, from knowledgeable associates to in-store tailoring to ensure that everything fits perfectly. The experience carries through to DestinationXL.com where customers can access an even greater selection directly from the website through their computer, smart phone or tablet. They can also verify if a product is in stock at their local store or select to have online purchases shipped to a local DXL store for free.
This new store joins the 87 current DXL locations across 34 states. "The DXL store is an innovative retail concept built to address our customers' needs and we are excited to open our latest store in Peabody," says David Levin, President and CEO of DXLG. "Our customers seek choices, value, convenience and a unique shopping experience which DXL stores offer. After experiencing the store, over 90% of customers say they'll return to shop Destination XL again so we are confident that our success will be replicated here in Peabody."
About Destination XL Group
Destination XL Group, Inc. is the largest retailer of men's apparel in sizes XL and up, with operations throughout the United States, Canada and in London, England. The company is currently in the process of transitioning from Casual Male XL to focus primarily on the Destination XL concept. Destination XL Group, Inc. currently operates Casual Male XL retail and outlet stores, Rochester Clothing stores, Destination XL stores and e-commerce sites, including DestinationXL.com and mobile site m.DestinationXL.com. DestinationXL.com offers a multi-channel solution similar to the DXL store experience with the most extensive selection of online products available anywhere for the bigger guy. The Company is headquartered in Canton, Massachusetts, and its common stock is listed on the NASDAQ Global Market under the symbol "DXLG."