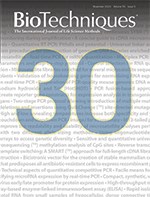 New York, NY (PRWEB) November 19, 2013
BioTechniques presents a special 'retro' issue in November 2013 in honor of the 30th Anniversary of the publication. This special issue contains all new news features and research articles, however, the articles will be presented in a format and style reminiscent of BioTechniques articles from the early 1990's. This issue also contains a look at the evolution of the journal cover art during the past three decades as well as a special news feature exploring the development of key technologies and the role BioTechniques has played in their communication to the greater scientific community.
The November issue features articles on:

Establishing isogenic inducible cell lines using founder reporter lines and recombinase-mediated cassette exchange
Correlative light microscopy for high-content screening
Microsatellite marker discovery using single molecule real-time circular consensus sequencing on the Pacific Biosciences RS
New vectors for epitope-tagging and gene disruption in Schizosaccharomyces pombe
Single step BP/LR combined Gateway reactions
Terminator oligo blocking efficiently eliminates rRNA from Drosophila small RNA sequencing libraries
A Special 30th Anniversary News Feature on BioTechniques: Celebrating 30 Years of Life Science Methods Development
Keywords: PCR, next-generation sequencing, RNA seq, microsatellites, DNA contamination, confocal microscopy, light microscopy, super-resolution imaging, high-throughput imaging and screening, PCR primer design, array-CGH, cell cycle timing, inducible cell lines, shRNA, inducible expression vectors
BioTechniques is available in print, digital and mobile app formats. Subscribe online to receive print editions by mail or monthly email alerts for digital and mobile app editions. Digital and mobile app issues are available at least one week prior to print issues.
Download the BioTechniques Mobile App for iPad and iPhone: https://itunes.apple.com/us/app/biotechniques/id495134628?mt=8.
View BioTechniques Digital Editions Online: http://www.BioTechniques.com/Digital.
Subscribe today at: http://www.biotechniques.com/Subscribe.
About BioTechniques
BioTechniques, the international journal of life science methods, provides open access to first-quality, peer-reviewed papers on laboratory techniques and protocols. Now in its 55th volume, BioTechniques has over 80,000 print subscribers worldwide. The journal augments its peer-reviewed content with feature articles and topic-specific supplements. Visit http://www.biotechniques.com for more details or to subscribe.