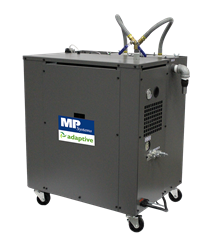 "This is the most versatile high pressure coolant system offered by MP Systems," Kempson noted. "We're excited to extend this new product to our customers."
East Granby, CT (PRWEB) December 03, 2013
MP Systems, Inc., today announced the release of an innovative adaptive high pressure coolant system designed to adapt the flow of coolant to correspond to the size of the cutting tool. The RA11 Series Adaptive High Pressure Coolant System was designed for machining applications that require a wide range of cutting tool sizes.
"The adaptive flow system on the RA11 automatically adjusts coolant flow in a range from 0-11 gallons per minute," MP Systems Product Engineer Matt Kempson explained. "This maximizes efficiency without sacrificing power."
Other key features of the new pump include a single M code operation that simplifies ladders and a heavy duty diaphragm pump, which ensures consistent coolant pressure. The RA11 is offered with an optional programmable pressure feature. The pressure is adjustable up to 1000 PSI and, unlike other units on the market, experiences no pressure drop over time.
"This is the most versatile high pressure coolant system offered by MP Systems," Kempson noted. "We're excited to extend this new product to our customers."
About MP Systems:
MP Systems, Inc. of East Granby, Connecticut is a manufacturer and supplier of high pressure coolant systems used in CNC manufacturing. In addition to high pressure coolant systems, MP Systems provides mist collection, chiller and wash down products. MP Systems' products are sold and distributed throughout North America. Its customers are users and distributors of CNC machine tool technology and OEM builders of CNC machine tools. For more information, visit http://www.mp-systems.net.