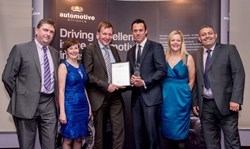 ENER-G is a UK energy services and technology business and a global leader in small scale cogeneration and biogas generation.
(PRWEB UK) 19 November 2013
The green power generation business, which designs and manufactures cogeneration and biogas generation systems at its global headquarters in Salford, won the Northwest Automotive Alliance Award for Supply Chain Competitiveness and Growth.
Key elements of ENER-G's products, including CHP systems and biogas generators for renewable energy conversion from anaerobic digestion and landfill, are sourced from the automotive industry. The company has built effective supplier partnerships and introduced a new supplier management system to achieve dramatic improvements in quality and productivity.
The introduction of a quality management system, including open data and information sharing across the supply chain, has led to a huge reduction in the requirement to re-work delivered parts, with all parties collaborating to achieve quality consistency and make continuous improvements.
Inventory management has also been addressed, with big improvements made to sales and operation planning information. Suppliers have open access to live, regularly refreshed, 12 month demand data, which has enabled them to accurately plan and predict their workflow. This has resulted in the shrinking of lead times on key components from weeks to days.
In addition, a system of Vendor Managed Inventory has been introduced for fast moving consumables. Together, these measures have enabled ENER-G to reduce its inventory 'comfort blanket' by 55% - improving cashflow and freeing up storage space to expand production capacity.
Craig Allen, ENER-G Group Manufacturing and IT Director, said: "This award is testimony to the robust partnership between ENER-G and our suppliers. By creating a spirit of cooperation and collaboration and sharing accurate information across our supply chain, all parties have benefited. We are delighted to achieve recognition for our joint efforts, which will continue to drive business improvement."
ENER-G is a UK energy services and technology business and a global leader in small scale cogeneration and biogas generation. The company operates globally - powering cost and carbon reduction and investing in and delivering complete end-to-end solutions for all commercial and industrial requirements. This includes every aspect of energy management and energy demand reduction, from consultancy, controls, combined heat and power manufacture and operation, to energy from biogas and including energy procurement.
Further information: http://www.energ.co.uk.