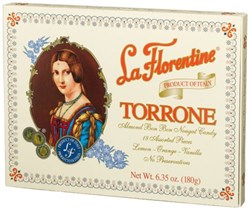 "It's wonderful to talk to so many people who are genuinely excited to rediscover a piece of their youth they once thought was lost to them."
(PRWEB) November 19, 2013
Gourmet Italian, a leading Italian foods distributor in the United States, is pleased to publicize that their seasonal shipment of Torrone candy is now in stock. Italian ex-patriots living abroad in the United States often find it difficult to locate this treat once so familiar to them in their childhood, and Gourmet Italian is thrilled to provide an opportunity for people to once again enjoy this beloved holiday indulgence. The 2013 seasonal stock is currently available and ready to ship to consumers.
Torrone dates back to 1441 and was originally created to commemorate the marriage of the daughter of an Italian noble family. Centuries later, the same ingredients of honey, egg whites, sugar, and almonds are still used to produce this traditional treat, now loved and enjoyed by generations of Italians around the Christmas season. While other brands also produce the candy, Gourmet Italian stocks the most popular brand: La Florentine Torrone. Each carton of nougat candy includes three flavors—orange, lemon, and vanilla—and each piece is individually wrapped for protection and to preserve the fresh flavors.
"Some of my customers don't know this product by name, but recognize the characters on the cover and the individually wrapped pieces of nougat candy," said Brandon Villano, owner of Gourmet Italian. "Once they realize what it is, they have such fond memories associated with Torrone that it gives them nostalgia about Christmas celebrations from years ago." He also added, "It's wonderful to talk to so many people who are genuinely excited to rediscover a piece of their youth they once thought was lost to them."
La Florentine Torrone can be purchased at the Gourmet Italian food store. Additional information and other Torrone options are available as well.
Wholesale Food Network LLC operates out of Youngstown, Ohio, and has been doing business under the "Gourmet Italian" name since January 2009. For more information on any of their products, please visit the Gourmet Italian food website.