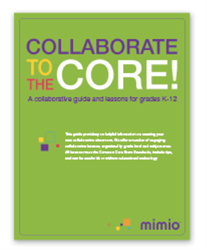 Collaboration is not only becoming an essential component in today's learning environments – its use is heavily relied upon in the workplace.
Cambridge, MA (PRWEB) November 18, 2013
To meet the demands of the 21st century classroom and workplace, students need strong collaboration skills. Mimio is helping teachers introduce this critical skill as early as kindergarten and develop it through grade 12 via two resources for collaborative lesson activities. The company's new Collaborate to the Core! guide and MimioStudio™ classroom software Collaborate Lesson Sample Pack provide collaborative learning activities for math, language arts, science, and social studies.
The lessons take advantage of the MimioStudio Collaborate feature, which lets up to nine students collaborate on an interactive whiteboard using any mix of MimioPad™ wireless pen tablets and mobile devices running MimioMobile™ applications. While the Collaborate to the Core! lessons can be used either with or without technology, the MimioStudio Collaborate Lesson Sample Pack requires both the classroom software and the MimioMobile app.
Collaborate to the Core!
The 38-page guide is available as a PDF file at http://news.mimio.com/free-collaboration-guide-mimio-pr. It contains an assortment of collaborative lessons for math, language arts, science, and social studies, all aligned to the Common Core State Standards and organized by both grade level and subject area.
An example of the guide's K-2 science activities has groups of students discussing the frog life cycle and then using paper and pencil or the MimioMobile app to name and number each stage of the cycle. A student from each group then presents the group's conclusions on a flip chart, or on an interactive whiteboard that the student controls using a mobile device with MimioStudio Collaborate. Finally, the whole class discusses the frog life cycle together with the teacher to correct any misconceptions.
In a sample math lesson, grade 6-12 teachers can assign groups of students specific angle drawings to measure either using a protractor, or using the MimioMobile app in conjunction with an interactive whiteboard and MimioStudio Collaborate. One member from each group writes the group's answer below the assigned drawing on a flip chart or on the interactive whiteboard, and the findings are discussed with the entire class.
For many more free lessons and activities, teachers can also visit Mimio's online community for educators at http://www.mimioconnect.com.
MimioStudio Collaborate Lesson Sample Pack
Available at http://www.mimioconnect.com/collaborate the sample pack consists of four files organized by subject area: math, reading/language arts, social studies, and science. Each subject area file contains sample lessons grouped by grade level. There's a minimum of two lessons per grade level, and each lesson is accompanied with directions for optimal use.
An example of a lesson idea in the sample pack is open-response language arts writing activities for K-12 classrooms. Since MimioStudio software lets teachers create open-response and short-essay assessment questions, the lesson includes guidelines for teaching students how to brainstorm, write an essay, perform character analysis, plot activities, create a storyboard, write arguments about specific content, and more, all as collaborative activities.
Each lesson sample encourages student participation by including one open-response question and one multiple-choice question. Students can discuss their answers before or after typing them in, depending on the activity. The pack also lists additional teaching tools, such as the MimioConnect® educator community, MimioTraining™ resources, social media, and the Mimio blog.
"Collaboration is not only becoming an essential component in today's learning environments – its use is heavily relied upon in the workplace," said Paget Hetherington, Mimio's vice president of marketing. "Our Mimio products enable students to truly collaborate in a dynamic, interactive learning environment that will prepare them to work in concert with their classmates and future coworkers."
About Mimio
Mimio is a global leader in interactive teaching technologies that offer a better way to learn and an empowering way to teach. Our award-winning, innovative, and affordable hardware, software, and curriculum increase teacher effectiveness and student engagement in K-12 classrooms.
For more information, visit mimo.com. Follow Mimio on Twitter @MimioTechnology and "Like" us on our Facebook page at http://www.facebook.com/Mimio.Technology.