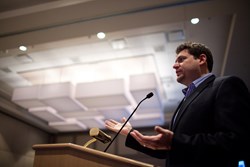 We still have a solid plan that will allow companies to continue to help their employees without the need to provide group health coverage
BIRMINGHAM, ALABAMA (PRWEB) November 19, 2013
Health Partners America (http://www.healthpartnersamerica.com), an innovative source for solutions involving America's health care crisis, announces the release of its new white paper – Defined Contribution: what's legal, what's not? This 15-page document answers some questions about a popular health insurance funding strategy, explains some long-awaited federal guidance on this topic, and provides some alternative ideas for employers and insurance advisors. Beginning in 2014, most of the major provisions of the Affordable Care Act go into effect, including a requirement that most Americans have qualified health insurance coverage and generous new government subsidies that will provide financial assistance to individuals and families who earn between 100% and 400% of the Federal Poverty Level.
While millions of Americans are eligible for this assistance, which is delivered in the form of advanceable, refundable premium tax credits, most employees and families who have access to employer-sponsored health coverage will not qualify, causing some business owners to re-think their decision to offer health insurance.
One idea that could benefit everyone involved – both employers and employees – is for a company to drop its group health coverage altogether and instead make a "defined contribution" with qualified elections available through a tax-advantaged spending account that their employees could use to purchase health insurance in the individual market or premiums for supplemental coverage or out of pocket spending accounts. With this strategy, those employees who qualify for a government subsidy would be able to access it, and higher-paid employees would still be able to benefit from the employer's contribution and the tax-free nature of the 125 Plan or the Health Reimbursement Arrangement – the two most common funding vehicles for a defined contribution approach. Note – Health insurance premiums are not eligible for pre-tax reimbursement but other premiums and the funding of Health Savings Accounts are okay.
In a technical release issued by the Department of Labor (with parallel guidance from the Treasury Department and Health and Human Services) on September 13th, employers and their advisors finally received some long-awaited guidance on this popular strategy. "While the news in general wasn't what we were hoping for," explains Josh Hilgers, president of Health Partners America, "it was a relief to finally get some clarification, and we still have a solid plan that will allow companies to continue to help their employees without the need to provide group health coverage."
That plan is detailed in this new white paper, which reminds readers that the defined contribution strategy is a great idea but is not material to the employer's decision to offer of drop coverage. "Employers are going to make that decision based on what's best for their employees," says Hilgers, "and for many workers the group coverage is no longer a beneficial. In fact, it could actually hurt their families."
As explained in the new report, it's almost always less expensive for an employer to "pay" than to "play," especially with the one-year delay in the employer mandate that was announced earlier this year. Coupled with the fact that many employees will actually be worse off if the employer offers coverage since it blocks them and their families from receiving a premium tax credit, the decision is an easy one for many employers to make.
"But that doesn't mean they shouldn't offer benefits," Hilgers is quick to point out. "They just need to re-think the benefits they offer to employees." The paper provides some ideas, including other group insurance products, a contribution to a Health Savings Account to help employees with their out-of-pocket expenses, or a defined contribution through a Cafeteria Plan so employees can choose how to spend their health care dollars.
The Cafeteria Plan strategy is one that many employers have overlooked since they've been so focused on their employees' health insurance premiums, but the law, which was passed back in 1978, allows employees to choose among a number of tax-free and post-tax benefits. Most of those benefits are still eligible expenses, so the defined contribution strategy is alive and well and will continue to be a popular option in 2014 and beyond.
Health Partners America is offering this report, which is applicable to both insurance advisors and employers, at no cost through the company's website.
About Health Partners America
Founded in 2007, Health Partners America provides insurance brokers with the tools, training and technology to help businesses deliver quality health coverage using affordable solutions. The company offers the industry's first broker-friendly private health insurance exchange, allowing advisors to provide custom solutions to employer groups, associations, and other organizations.
###
If you'd like more information about this topic, or schedule an interview with Josh Hilgers, please call Katie Burns at 205-443-2184 or visit http://www.healthpartnersamerica.com.