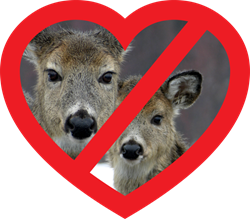 Deer are not a new problem, but the problem is bigger than ever. Sales of our Deer & Rabbit Repellent have grown year after year.
Blakeslee, PA (PRWEB) November 19, 2013
Deer damage takes many forms – but is avoidable if you're willing to change your ways.
It's hard to hear, isn't it? With their gentle demeanor, deer can create a pastoral setting in our yards as they meander through and nibble. As winter bears its teeth, temptation increases to feed these gentle creatures. But homeowners invite a wealth of problems by attracting these animals close to communities: two of the greatest being the risk to motorists and damage to landscaping, not to mention the ever-present risk of tick-carrying Lyme disease.
What draws them? Food.
This takes two forms: your ornamental shrubs or the treat your neighbor left out for Bambi and friends last night. But the latter, an often- goodhearted kindness, is a recipe for disaster.
Either way, the result is the same: deer damage.
Automobiles collide with more than 1 million deer annually, mostly during the fall mating season. Each accident causes (on average) about $3,100 in damage to vehicles, according to insurer State Farm. Stated in their Annual Deer Collision Report, the incidence of accidents is up 7.7 percent in 2012. Currently, the highest risk states are West Virginia, South Dakota, Iowa, Michigan and Pennsylvania. By luring the animals into populated areas, the risk increases exponentially.
Different areas of the United States have similar problems – and similar suggested solutions. The biggest challenge for wildlife rescue organizations and government agencies is preventing the problem before it starts – and that requires changing the behavior in humans.
To solve deer damage in our yards and our communities, we must first make the commitment to change how we interact with them. Deer damage is a communal and not an individual issue.
"We look at it as a people problem, and not an animal problem. Wild animals will be somewhat opportunistic feeders. If someone is offering them a free meal, they can't say no," said Lynn Cuny, founder and president of Wildlife Rescue and Rehabilitation in San Antonio, TX.
Deer don't know the difference between the snacks you generously put out for them, and what they perceive as a natural treat – like your expensive landscaped bushes.
"Deer graze. They don't discern between plants that cost $1.99, and ornamental shrubs that cost $1,000. A meal is a meal," said Edward Abraham, President and CEO of The Liquid Fence Company. Manufacturing and selling natural deer repellent for over 15 years, the growth of Abraham's company is a testimony to a continually growing deer problem. "Deer are not a new problem, but the problem is bigger than ever. Sales of our Deer & Rabbit Repellent have grown year after year. With a combination of education and repellent, the problem isn't insurmountable. People just don't know there are options. The most important thing is prevention," Abraham added.
Prevention starts with humans. Kathy Uhler, Director of the Pocono Wildlife Rehabilitation Center in Pennsylvania often has this conversation in autumn. So how can you prevent deer damage, and still be a good neighbor to your doe-eyed friends? According to Uhler, it requires a multi-faceted approach. Some of Uhler's tips include:
Food for Thought
Be proactive from the start. Acquire a list of deer-deterring plants online or from your local garden center. "Plant things they don't generally like."
Avoiding the Problem
As tempting as it can be, don't feed the wildlife. Beyond the risk of bringing unexpected and/or unwelcome animals, you also start a habit that you will have a hard time breaking. The deer do have food sources. By drawing them near your home, you risk more harm to them then help with your food. Leave them be.
An Ounce of Prevention
In many communities, fences are not an option as a deer inhibiter. Instead, consider a commercial repellent. There are many on the market, including Liquid Fence Deer and Rabbit Repellent. The product is eco-safe for people and pets. It won't harm Bambi; it will just trigger a natural instinct to stay away.
Make it a Block Party
Uhler offers presentations in communities in the Pocono Mountain area. By working together, you can limit the impact of deer damage in your neighborhood. And we're not just talking about shrubs. This time of year, the risk of deer-related collisions skyrockets. By producing a virtual bubble around your neighborhood, deer are deterred and your insurance premiums don't increase!
For the Wildlife Rescue Center of Napa Valley, California, autumn through spring present a difficult period as people feed the deer, perceiving they need help. Angela Zierenberg, the mammal rehabilitator for the Center, acknowledges concerns that by luring deer into populated areas, a number of risks befall them. "They can get hit by a car or attacked by dogs. Maybe you enjoy feeding them, but your neighbor may not be as nice," she said. "You're also feeding them the wrong foods. People feed them carrots and lettuce which are foods they don't find naturally in the wild. They need to eat foods natural to them."
Zierenberg always discourages any kind of feeding of wildlife. "You are habituating them. But once that food source is taken away, that animal can starve to death." Urging that you think first about the safety and well-being of your wild friends, she added: "We understand you love them, and you want to see them up close. It just doesn't serve the animal." Prevent deer damage by avoiding causing the problem in the first place.
The Liquid Fence Company offers an eco-conscious line of insect and animal repellents, including its flagship product, Liquid Fence Deer & Rabbit Repellent, which is the number one product of its kind in America. Through continuous research and dedication to consumer safety, they are expanding to even more areas of safe and effective repellent products. To learn more, visit http://www.liquidfence.com.