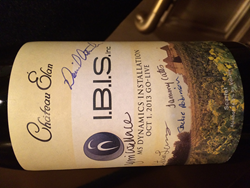 Looking back on the implementation process, I can say with confidence that I.B.I.S., Inc. delivers on their promise.
Peachtree Corners, GA (PRWEB) November 20, 2013
I.B.I.S., Inc., leading provider of Microsoft Dynamics supply chain solutions to the mid-market, is pleased to announce the successful completion of Chateau Elan's Microsoft Dynamics GP implementation. Château Élan, Atlanta's premier meeting destination offering championship golf, a full-production winery, European health spa, and world-class amenities, partnered with I.B.I.S., Inc. to implement Microsoft Dynamics GP as their business management solution.
Château Élan had very specific business requirements. The software needed to provide them with a platform for managing all of their business processes, including Financials, Inventory, and general supply chain management needs. "Most importantly, we were looking for a Dynamics partner that we could trust – a partner who understood the multi-faceted nature of our business," commented David Ostrander, Chief Financial Officer for Château Élan. "We found these qualities in I.B.I.S., Inc. and knew we had finally found the right partner. Looking back on the implementation process, I can say with confidence that I.B.I.S., Inc. delivers on their promise."
Like many fast-growing mid-market companies, Château Élan was looking for a solution that would accommodate their current and future needs. "We evaluated a range of ERP systems designed for mid-market companies," said Ostrander, "but I.B.I.S., Inc. helped to deliver the solution that best fit our needs. Although GP is optimized for the mid-market, the flexible design will accommodate whatever the future holds."
About I.B.I.S., Inc.
I.B.I.S., Inc. is a premier provider of Microsoft Dynamics next-generation supply chain software and services. Based on 25 years of proven success helping midmarket companies optimize their supply chains for profitability and embedded with Microsoft's next-generation ERP system, Advanced Supply Chain Software powered by I.B.I.S. is uniquely designed to address supply chain planning, management, and execution challenges for a new generation.
I.B.I.S., Inc. is a two-time winner of Microsoft Dynamics Outstanding Partner of the United States Award, the winner of Worldwide Partner of the Year Award for Microsoft Dynamics GP, a Worldwide Finalist for the Microsoft Dynamics AX Partner of the Year, a Microsoft Partner with four Gold Competencies (ERP, CRM, Business Intelligence, and Application Development), and a nine-time Microsoft Dynamics Inner Circle Partner. I.B.I.S., Inc. is AMR Research Industry Certified in Distribution and Discrete Manufacturing.
# # #