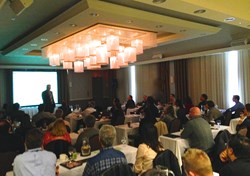 With Sleep Apnea, there are no quick fixes, no cutting corners. This is life and death and there is no room for dabblers. - Dr. Brian Allman.
(PRWEB) November 22, 2013
San Diego, California is home to the Chargers, the Padres, the San Diego Zoo, the Coronado Bridge and some of the best weather you can find anywhere! But maybe more importantly, it is home to over 3,095,313 people which means that if the staggering statistics nation wide are correct, many of those people are suffering with Sleep Apnea. According to the Wisconsin Sleep Heart Health Study, it is estimated that over 17% of Americans have a condition known as Obstructive Sleep Apnea or, OSA for short. Approximately 6% of our citizens have a moderate or severe form of OSA which is linked to heart disease, stroke, diabetes, obesity and death. Considering that there are over 315, 000,000 living in the United States, there are over 53,500,000 sufferers.
In the highly populous area of San Diego, it is essential that dentists know how to identify and treat this deadly disease with Oral Appliance Therapy.
Dr. Brian Allman of the Elite Dental Institute introduced the easy to follow 7 Appointment Protocol more than 4 years ago and since that time Dr. Allman has taught hundreds of dentists how to treat their patients effectively by collaborating with area physicians. This type of step-by-step treatment utilizing a collaborative "circle of care" philosophy allows dentists to treat this deadly disease to the absolute highest standard of care. "With Sleep Apnea, there are no quick fixes, no cutting corners. This is life and death and there is no room for dabblers," says Dr. Allman. Read more about the course and the protocol on our website here.
There are many courses throughout the country offering various ways to practice dental sleep medicine; many are held strictly to sell unnecessary products. Here are just a few of the things to look for in order to get the most out of a course before deciding to spend valuable time and money:

The instruction should come from evidence-based literature and you should be able to start utilizing the information immediately.
The course/instructor should not promote one "miracle" appliance or equipment that requires a huge investment.
The course/instructor should offer ongoing support and monthly webinars to keep dentists updated on the latest medical changes and motivated to succeed.
The course should always be an AGD-PACE approved continuing education provider.
The institution should have a 99.9% Approval Rating (5 out of 5 Stars).
The Elite Dental Institute courses meet all of the above requirements, not to mention that Dr. Allman has 8 Fellowships & Diplomats which means that he has the qualifications that are mandatory in an instructor. Here is a comment written by one of our recent attendees on our course evaluation, "This is by far one of the best courses I have ever taken. Dr. Allman is so dynamic and interesting that I didn't want the course to end!"
Visit our testimonials page now and find out why Elite Dental Institute students are successfully treating sleep apnea patients worldwide.
Dr. Allman is a practicing Dental Sleep Physician with a successful dental sleep medicine practice, a collaborative study group with over 20 referring physicians and with this kind of experience, is it easy to show dentists how to succeed in their local area as well.
If you are ready to make the move to start confidently treating patients with Sleep Apnea, come to the course in San Diego, CA at the Courtyard Marriott in the great Gas Lamp area. http://www.marriott.com/hotels/travel/sancd-courtyard-san-diego-downtown/. It's right around the corner so register now.