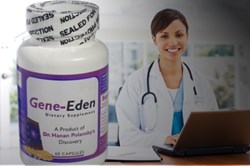 Everyone has dental procedures at some point. An HSV-1 outbreak that can put an individual in the hospital is no laughing matter. Infected individuals need an effective remedy that is proven to reduce HSV symptoms. We recommend Gene-Eden-VIR.– Mike Evans
Rochester, NY (PRWEB) November 21, 2013
Most people know that reactivation of the latent HSV-1 virus causes recurring herpes outbreaks such as cold sores and fever blisters (1). However, most people do not know that dental procedures can lead to extremely severe HSV-1 outbreaks that require hospitalization. As the authors of a study said, "Orolabial (mouth) HSV-1 infections have been reported following dental procedures. Sometimes, they may be particularly severe, requiring hospitalization and intravenous antiviral therapy (1)."
Symptoms of HSV-1 infections of the mouth usually occur in the same place, over and over again. Subsequent outbreaks, which are typical of an infection, are also usually of the same length and severity as the first outbreak (1). A particularly severe outbreak of HSV-1 may happen after dental procedures, prosthodontic treatments (the branch of dentistry that deals with the replacement of missing teeth), mouth surgery, facial surgery, or after brain surgery (1).
In fact, the more involved the medical procedure and the more traumatic the treatment, the larger the HSV-1 outbreak. "The higher invasiveness of the procedure, such as dental extractions, may be responsible for higher incidences of DIRR (dental procedure-related recurrent herpes), as suggested by previous studies (1)."
polyDNA therefore recommends taking Gene-Eden-VIR as a preparation for dental or facial procedures.
"Everyone has dental procedures at some point. An HSV-1 outbreak that can put an individual in the hospital is no laughing matter. Infected individuals need an effective remedy that is proven to reduce HSV symptoms. We recommend Gene-Eden-VIR." – Mike Evans, polyDNA
A study published on August 12, 2013 in the peer reviewed, medical journal
Pharmacology & Pharmacy, in a special edition on Advances in Antiviral Drugs, showed that Gene-Eden-VIR reduced herpes symptoms. Study authors wrote that, "Individuals infected with the herpes virus…reported a safe decrease in their symptoms following treatment with Gene-Eden-VIR (2)." The study authors also wrote that, "We observed a statistically significant decrease in the severity, duration, and frequency of symptoms (2)."
To learn more about Gene-Eden-VIR, and herpes visit http://gene-eden-kill-virus.com/Herpes-Remedy.php. All orders of Gene-Eden-VIR are completely confidential, and no information is shared or sold to any third party. Privacy is assured.
References:
(1) Herpes simplex virus reactivation and dental procedures.
http://www.ncbi.nlm.nih.gov/pubmed/23604785
(2) Gene-Eden-VIR Is Antiviral: Results of a Post Marketing Clinical Study
http://gene-eden-kill-virus.com/PP_Gene-Eden-VIR-is-Antiviral.pdf
polyDNA is a biotechnology company that develops dietary supplements using the unique scientific method developed by Dr. Hanan Polansky, which is based on Computer Intuition.
In addition to his unique scientific method, Dr. Polansky published the highly acclaimed scientific discovery, called Microcompetition with Foreign DNA. The discovery explains how foreign DNA fragments, and specifically, DNA of latent viruses, cause most major diseases.
polyDNA developed Gene-Eden-VIR, an antiviral natural remedy that helps the immune system kill latent viruses.