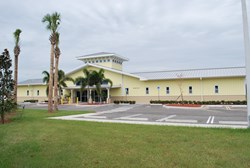 Fort Pierce, FL (PRWEB) November 21, 2013
St. Lucie County, Fla. was in dire need for a shelter to accommodate the area's increasing stray animal population, so they turned to Richard K. Davis Construction Corporation and the cost efficiency of pre-engineered metal. The resulting 13,000-square foot shelter showcases a Ceco Building Systems rigid frame metal framing system as well as wall and roof panels.
The Humane Society of St. Lucie County is an open-admission shelter serving all of St. Lucie County, Fla. Each year, the organization rescues, cares for, and re-homes more than 8,000 animals in the community. Its goal is always to provide immediate care for the animals under its roof and provide education to the community. It is a nationally accredited 501(c)3 not-for-profit corporation which depends upon the community, businesses and individuals for support.
According to Rita Hart, marketing and outreach coordinator for The Humane Society, the area has experienced exponential growth since the present shelter in Fort Pierce opened in 1956. "At that time, the population of Fort Pierce and unincorporated St. Lucie County was fewer than 25,000 residents," she explained. "With a population now exceeding 250,000 residents, the current shelter has long experienced overcrowding. Over time, the bulk of the population moved to Port St. Lucie, in the southern part of the county, where the new building is located." The new shelter will serve mostly the Port St. Lucie population; the original Fort Pierce facility will remain open to continue serving the population in the northern part of the county.
Located on 4.25 acres of land, the shelter is expected to open in November and will house a surgical clinic, pharmacy, two examining rooms, a recovery room, a "cat community" area and cat condos, dog kennels, two indoor play yards, adoption/holding areas for cats and dogs, and a meeting/education room. Two large, glass-walled areas located in the lobby will feature older and harder-to-adopt pets for the public to view.
The facility also contains a "sanctuary room" for people who must euthanize pets that have reached the end of their natural life, giving them privacy and a place to spend some time with that pet at the end. On the grounds are a gazebo, two more play yards and a dog park.
Ceco metal panel products used included 22-gauge SuperLok roof panels in Signature 300 Tundra; 24-gauge Signature 300 Bone White Trim; 22-gauge PBR Special Kynar (R) wall panels in Optimistic Yellow; and 22-gauge Signature 300 Bone White soffit panels. Total roof area is 13,416 square feet, and 82.4 tons of steel were used and consisted of four loads of freight.
According to Miguel Martin, architect at MLM-Martin Architects, the building's inspiration is the original early Florida buildings constructed by settlers in South Florida and The Keys. "These buildings were simple in form, high eaves and ceiling/roofs, deep overhangs, large exterior openings to take advantage of prevailing coastal breezes and solar orientation," he said. "From a practical point of view we used the concept to select final materials and systems that are durable/maintainable as well as affordable. We selected a metal building system that met the aesthetic, wind resistance and budget requirements of the clients' program for this project."
Martin added that unique building features of the shelter include kennel areas with a natural cross-ventilation system assisted by fans. The building sides open up to the side courtyards with screened overhead door openings used in combination with louvers to provide natural light and ventilation.
"Ceco stepped up to make this building what it is," commented Doug Davis, president of Richard K. Davis Construction Corporation, general contractor for the project. "It's not a typical pre-engineered building. This was the first time I've worked with Ceco. Everyone was very pleasant to work with. There are always issues that come up in a project this size, but Ceco made it work. They followed up and worked with us. I was very pleased to work with Ceco."
Richard K. Davis Construction Corporation is a general contractor founded in 1960. Now led by the second generation of the Davis family, the company is unique in that it self-performs much of its work and has been involved in pre-engineered metal buildings for over 40 years. Its professional team has over 500 years of combined construction experience.
Ceco Building Systems, a leading division of NCI Building Systems, designs and fabricates attractive, energy-efficient, affordable, easily expandable and "function-oriented" metal buildings. Ceco is well-known for its local builder support and design collaboration to meet specific space and functional requirements of all projects. For more information, visit http://www.cecobuildings.com.
NCI Building Systems Inc. is one of North America's largest integrated manufacturers of metal products for the nonresidential building industry. NCI is comprised of a family of companies operating manufacturing facilities across the United States and Mexico, with additional sales and distribution offices throughout the United States and Canada. To learn more about NCI, visit http://www.ncigroup.com.