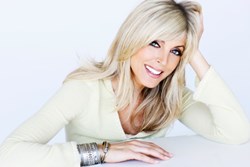 Beverly, MA (PRWEB) November 21, 2013
Kaminski Auctions is pleased to present the personal collection of Marla Maples and Tiffany Trump on Day Two of their Annual Thanksgiving auction. The auction will be held at their auction gallery in Beverly, Massachusetts, on November 30th and December 1st.
A portion of the proceeds from Marla Maples' collection will benefit a cause very dear to her heart: the newly formed Brain Cancer Research Institute (http://www.braincancerresearchinstitute.org) headed by Santosh Kesari MD, PhD.in San Diego, California. The institute is a research foundation dedicated to improving awareness and accelerating treatments for brain cancer patients around the world. Having first hand experience with a loved one battling brain cancer, Ms. Maples knows how important this research is to finding the cause and treatment of this terrible disease.
Featured from the collection is an Art Deco solid bronze Erte sculpture on a marble base, marked C1987 Chalk and Vermillion and Sevenarts 111/375. Donald Trump originally gifted the piece to Ms. Maples at a reception he hosted for the artist at Trump Castle, Alantic City. Also highlighted is a wonderful Val St. Lambert Jupiter vase with 24K gold applied decoration.
Original furnishings from their Trump Tower, Mar a Lago, and Trump Park residences include a modern designer sideboard with coral type veneer and brass inlay, circa 1980s. The lot also includes three photographs of the sideboard in the Trump residence. In addition there is a pair of designer chrome and beveled glass side tables, also part of the original furnishings.
Art from the collection includes an oil on canvas scene of children climbing a ladder signed "O. Tanner" purchased by Donald Trump for Marla Maples, along with multiple personal photographs and other interesting memorabilia from the couples years together. These personal effects include a "Rich Donald/Poor Donald" doll, given to Donald Trump by David Letterman on his show in the late 1980s.
There is a fabulous original Escada trunk with brass locks stamped "Escada," and accompanied by a travel tag marked Maples/Trump with the original Trump Towers address. The trunk is conservatively valued at $2,000-$2,500. Other personal items of interest include a bottle of 1945 Chateau Lafite Rothschild, given to Marla and Donald Trump at their wedding. This unique bottle of wine is valued at between $3,000 and $5,000.
Kaminski Auctions is proud to offer online bidding for this auction through their new online bidding platform KaminskiLIVE. To register to bid online, go to kaminskiauctions.com and click "Become a Member" to get started. Preview for this exciting sale will be held Monday, November 25th, from 10:00am to 5:00pm, Tuesday, November 26th, from 10:00am to 5:00pm, Wednesday, November 27th, from 10:00am to 5:00pm, Thursday, November 28th, from 4:00pm to 8:00pm, Friday, November 29th, from 10:00 to 5:00pm, and on the days of sale, November 29th and 30th beginning at 8:00am.
KAMINSKI
Kaminski Auctions, located on the North Shore of Boston, has been serving the New England antiques market for over 25 years as a full service auction house and appraisal service for fine art, antiques and estates.
With two locations in Beverly, Massachusetts, including a new state of the art auction gallery located at 117 Elliott Street, and a historic 1850's barn and office facility at 564 Cabot Street, Kaminski Auctions hosts 25 auctions a year.
In today's highly competitive market of fine art and antiques, Kaminski Auctions provides its customers with bicoastal services and marketing with west coast offices in Beverly Hills and San Diego, California.
Kaminski Auctions offers specialty departments in Asian Art and Antiques, Silver, Glass and Lamps, Couture and Vintage Clothing, Photography and Modern Design. We have highly trained and knowledgeable appraisers on staff that will help you determine the true value of your antiques, or entire collections. Free Appraisal days are offered every Tuesday from 10:00am-4:30pm at our 564 Cabot Street location in Beverly, Massachusetts & by appointment at our 5171 Santa Fe Street location in San Diego, California. We welcome emailed photos of your items! Contact consignments(at)kaminskiauctions(dot)com.