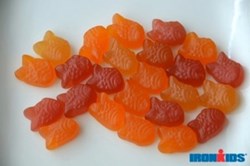 We hear over and over again from parents who just can't get their kids to even try fish, much less get them to eat it on a regular basis. For them, our Omega 3 gummies for kids are a huge help.
Burlington, Ontario (PRWEB) November 20, 2013
A new study published in Maternal and Child Nutrition found that children are not getting enough Omega 3 fatty acids in their diets. This is a surprising revelation considering the proliferation of Omega 3 enriched products. Life Science Nutritionals (LSN) would like to remind parents of the two servings of fatty fish per week recommendation.
The study found that children between the ages of 1 and 8 years were consuming about 23 to 93 mg of DHA daily. That is well below the recommended two servings or about 500 mg of EPA + DHA; even when scaled down to the equivalent of child portions, the recommended range is roughly 250 to 500 mg EPA + DHA daily.
"Our IronKids Omega 3 gummies have been the number 1 selling Omega in Canada for a few years as well as winning the Best New Product Award," says LSN Director of Social Media, Deb Lowther. "Even after adding 2x the DHA/EPA of our original IronKids Omega 3s, kids still love the taste of these gummies. And if the kids like the taste, they will be willing to take their Omega 3's."
Omega 3 is beneficial at every stage of life, from early development into old age. It is important for proper brain function and development, and maintaining cardiovascular health. It also may be of benefit in the treatment of cancer, depression, macular degeneration, ADHD and dementia.
It is particularly beneficial for growing bodies, supporting brain, eye and nervous system development as well as improving cognition, decreasing allergies and respiratory illness, and diminishing behavioral problems. It is even thought that regular consumption of Omega 3 in these early years will lead to improved health later in life.
"Every time we turn around there is a new study about the benefits of Omega 3 fats," says Jackie McKenzie, registered dietitian and LSN health consultant. "Now the key is getting parents to translate this information into practice and ensure their kids are getting enough Omega 3 in their diets or at least the equivalent in fish oil supplements."
There are many possible reasons for this Omega 3 deficiency, from picky eaters who refuse to even try fish to parental concerns over mercury contamination or food allergies. Even the fish sticks parents think of as a fool-proof way to get kids to eat fish may be to blame as most are made with white fish, which is lower in the desirable DHA than oily fish.
The study noted that, "compared to adults, children obtain a greater proportion of EPA and DHA from foods like poultry, eggs and cereals." A comparison of the nutrient values shows why kids aren't getting the fish oil benefits. A serving of salmon contains 1,611 mg EPA + DHA while Omega 3 enriched eggs only contain 150 mg DHA and chicken contains 46 mg EPA + DHA.
"We hear over and over again from parents who just can't get their kids to even try fish, much less get them to eat it on a regular basis," says Lowther who came up with her own healthy version of fish sticks to get her kids to eat more fatty fish. "For them, our Omega 3 gummies for kids are a huge help."
Besides the twice weekly serving of fatty fish, good sources of Omega 3 include Omega 3 cereals, specialty eggs, and shrimp. Walnuts, flax seeds, soybeans, canola oil and dark leafy greens also contain Omega 3, but in the ALA form which is a precursor to the desirable EPA + DHA. Less than 5% of ALA consumed is converted to EPA and DHA.
For consumers looking for Omega 3 supplements to fill the nutritional gap, look for a one that contains both EPA and DHA from "pure sources". LSN recommends reading the label carefully to determine how much EPA + DHA it contains, other non-medicinal ingredients and whether or not it is a Health Canada regulated product.
About Life Science Nutritionals
Founded in 2005 by health and nutrition expert, Stuart Lowther, Life Science Nutritionals specializes the manufacture of premium quality gummy vitamins for kids and adults, under the trade names IronKids and Adult Essentials.
Life Science Nutritionals is Canada's leader in gummy vitamin manufacturing, sales and distribution, winning numerous consumer and parent choice awards, including the Best New Product Award and the Parent Tested, Parent Approved Award.