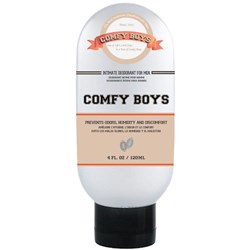 While waiting those endless Black Friday lines, avoid that awkward moment of discomfort where you have to adjust your pants by using Comfy Boys!
Pompano Beach, FL (PRWEB) November 21, 2013
Intimate deodorant for men Comfy Boys, will be preparing for the holidays early with the launch of upcoming Black Friday specials exclusively with Amazon.com. During Thanksgiving Weekend, from November 29 through December 2 also known as Cyber Monday, Comfy Boys will be discounting its packages from $14.99 to $9.99.
To purchase Comfy Boys, discount-seeking customers should visit Amazon.com (link: http://amzn.to/17nKIW9) beginning November 29. The number one intimate deodorant for men contains 4oz, and gift-wrapping services are also optional.
Comfy Boys is 100% all natural and is drug-free, and can be used after shower or as needed, for maximum strength. This product prevents odors, humidity and discomfort around the groin and back areas.
About Comfy Boys
Comfy Boys is the Number 1 intimate deodorant for men. Its soothing formula will prevent dryness and itchiness in men private areas.
For more information, visit http://www.deodorantforman.com/.