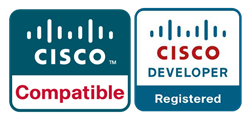 (PRWEB) November 19, 2013
ActionPacked Networks™, the leader in application-aware network performance management (ANPM) software, will be hosting a webinar to instruct network administrators on how to utilize Cisco Application Visibility and Control (AVC) with LiveAction to gain deeper visibility into application traffic. Together, Cisco AVC and LiveAction helps enable administrators to mark applications for further personalization and block applications for security reasons to help conserve limited network bandwidth.
As bring your own device (BYOD) trends grow and Wi-Fi continues its path toward becoming the primary network access service, IT pros are tasked to insure very high levels of network performance and availability. And, as the variety of applications supported by this infrastructure increases, there is a need to prioritize access to real-time, mission-critical applications with consistent throughput and latency requirements.
In this 45-minute webinar, Damodar Banodkar, technical marketing engineer with Cisco, will cover:

The value addition of an application-aware wireless infrastructure
How to control applications in a Cisco wireless infrastructure
Simplified operation of Bonjour services such as Airplay and AirPrint for the apple devices on the network
Webinar attendees will learn how Cisco AVC and LiveAction helps provide:

Improved quality of experience for all wireless users through application-level optimization and control
Proactive monitoring and end-to-end application visibility to accelerate troubleshooting and minimize network downtime
Network capacity management and planning through greater visibility of application usage and performance
What: Controlling Applications on Your Cisco Wireless Network
When: Friday, November 22, 2013
Time: 12:00 p.m. – 12:45 p.m. PDT / 3:00 p.m. – 3:45 p.m. EDT
Who: Damodar Banodkar, Technical Marketing Engineer, Cisco Systems
Register: To register for the free live webinar click here or go to http://www.actionpacked.com/webinar-registration.
Download a special free trial offer of the full-version of LiveAction now at http://www.actionpacked.com/liveactiondownload.
For more information on ActionPacked Networks and LiveAction, visit http://www.actionpacked.com.
To follow us, join ActionPacked Networks at our Facebook, Twitter, and YouTube social media pages.
About ActionPacked Networks
ActionPacked Networks is the leader at simplifying the network through end-to-end application-aware network performance management and quality-of-service control. The company's LiveAction software helps enterprises and network professionals save time and money, increase productivity, and ensures faster deployments. For more information, visit http://www.actionpacked.com.
###
ActionPacked Networks is a trademark of and LiveAction is a registered trademark of ActionPacked Networks. Cisco and the Cisco logo are registered trademarks of Cisco Systems, Inc. and/or its affiliates in the United States and certain other countries.