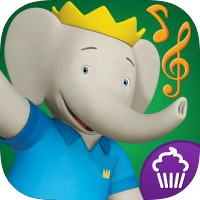 "This first-ever app for Babar & Badou invites children to experience their world in new and exciting ways through special effects and animation," said Amory Millard, Cupcake Digital's EVP of Brand and Business Development.
New York, NY (PRWEB) November 21, 2013
Babar is going digital! Cupcake Digital, Nelvana Enterprises and the Clifford Ross Company have teamed up to create the first-ever Babar and the Adventures of Badou enhanced storybook app for this beloved publishing property and animated TV series, which airs on the 24-hour Disney Junior channel in the U.S., Treehouse in Canada and TF1 in France.
In the story app, entitled Babar & Badou's Musical Marching Band, Prince Badou catches Ambassador Crocodylus trying to cause trouble for King Babar during the visit of Lord and Lady Rataxes. As the story develops, kids can play along as Badou saves the day. The enhanced app is available today on iTunes, Amazon, Google Play, and the Barnes & Noble NOOK Store™ for $3.99.
"This first-ever app for Babar & Badou invites children to experience their world in new and exciting ways through special effects and animation," said Amory Millard, Cupcake Digital's EVP of Brand and Business Development.
Features found within the Babar & Badou's Musical Marching Band story app include:

Interactions with favorite characters and synced narration designed to facilitate early literacy skills
Three reading modes: Read to Me, Read & Play, and Quiet Reading
Five educational and entertaining games and activities: Go Bananas, Badou's Treasure Hunt, Alphabet Derby, Music Maker, and a sing-along music video
Coloring pages with the most popular characters and fun features, including buckets of paint, brushes, and stickers
A Grown-Up's Corner provides thoughtful questions to stimulate conversation about the story
The Common Core Corner details Common Core State Standards (CCSS) addressed within the app
For over 80 years, Babar has delighted children around the world in print, on television and film, and now for the first time ever, as a mobile app," said Andrew Kerr, Co-Head of Nelvana. "Babar & Badou's Musical Marching Band" takes advantage of all of today's digital technology to create a fresh and compelling story-telling experience.
"The Clifford Ross Company is thrilled to escort Babar into the digital age. There is no way that Babar and Celeste could have imagined this when they built their first house in Celesteville," said Clifford Ross. "This magical world has given birth to yet another world of magic through tablets and mobile devices unimagined when Jean De Brunhoff created Babar in 1931."
CupcakeDigital.com provides more ways for parents and caregivers to enhance the app experience for kids. Free downloadable activities encourage further learning offscreen. Parents' and Teachers' Guides are also available with helpful tips to get children ready for school and how to utilize apps to further education in and out of the classroom.
###
About Cupcake Digital
Cupcake Digital, Inc. was established in June 2012, and has been successfully transforming children's entertainment properties into enhanced story experiences and learn & play apps, giving kids an opportunity to interact with the characters they love. The Company has created noteworthy, award-winning digital applications based on the Emmy®-winning television series "Wow! Wow! Wubbzy!®," The Jim Henson Company's "Fraggle Rock," American Greetings' Strawberry Shortcake, as well as Discovery's Animal Planet brand. The company's apps are consistently top-ranked among children's book and education apps on the Apple App Store, Amazon, Google Play and the Barnes & Noble NOOK Store. Headquartered in NYC, Cupcake Digital was founded by proven professionals in the fields of technology, family entertainment, publishing and brand marketing. Cupcake Digital continues to partner with leading children's entertainment properties worldwide and has received five Parents' Choice Fun Stuff Awards and two Cynopsis Kids !magination Awards honorable mentions. For more information about Cupcake Digital Inc., please visit http://www.cupcakedigital.com.
About Nelvana
Founded in 1971, Nelvana is one of the world's leading international producers and distributors of children's animated and live-action content. Nelvana is comprised of Nelvana Studio and its distribution arm Nelvana Enterprises and owned by Corus Entertainment Inc. Nelvana Studio is a globally recognized studio that produces a stable of award-winning and globally renowned brands that focuses on comedies, preschool, boys and live action. Nelvana's content airs on Corus Entertainment's kids channels in Canada and in over 160 countries around the world. The Nelvana library has well over 3,800 episodes of programming and has received over 70 major international program awards including Emmys® and Geminis. Visit the Nelvana website at http://www.nelvana.com.
About The Clifford Ross Company
Founded in 1985 by artist/photographer Clifford Ross, The Clifford Ross Company focused on three classic properties during its early years: the works of Edward Gorey, Tom Swift and Babar. After optioning the rights to Babar in 1986 directly from Laurent de Brunhoff and the de Brunhoff family, CRC entered into a working relationship with Nelvana on all aspects of the property. For over 20 years, the companies have worked together producing both television and feature-length movies featuring the Babar characters and developing a worldwide licensing program. In 2010, Ross completed "Harmonium Mountain," an animated, computer-generated landscape video, with an original score by Philip Glass, which was featured at the Tribeca Film Festival. He recently completed a stained glass wall for the new United States Federal Courthouse in Austin, Texas.