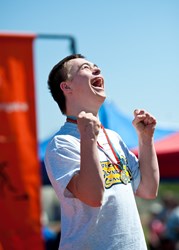 It is the greatest of honors to be a sponsor of Special Olympics Team USA.
Mount Kisco, NY (PRWEB) November 21, 2013
Tommie Copper, the originator of copper-infused compression and performance apparel, is excited to announce a new partnership with Special Olympics. Special Olympics gives children and adults with intellectual disabilities the opportunity to experience the power and joy of sport, through athletic training and competition, all while creating a more inclusive world for everyone. Tommie Copper has pledged to donate $1 for every order placed* December 1st through the 31st in order to raise awareness and funds for Special Olympics athletes, including members of Special Olympics Team USA on their journey to the 2015 Special Olympics World Summer Games, in Los Angeles, California.
For 45 years, Special Olympics has unleashed the human spirit through the transformative power and joy of sports. Founded in 1968 by Eunice Kennedy Shriver, Special Olympics currently encompasses more than 4.2 million athletes in 170 countries, and provides competition in 32 Olympic-type sports throughout the year. Through its ongoing work in sports, health education and community building, Special Olympics is addressing inactivity, injustice, intolerance and social isolation by encouraging and empowering people with intellectual disabilities, which leads to a more welcoming and inclusive society.
Tommie Copper's founder, Tom Kallish states his excitement, "It is the greatest of honors to be a sponsor of Special Olympics Team USA. I have a profound understanding of everyone having a purpose and being included having grown up with a brother with special needs. Our relationship with Special Olympics embodies one of the greatest mottos of all: 'Think Good, Do Good, Feel Good.'"
"Every athlete dreams of becoming the best they can be in their sport and representing their country on the world stage – Special Olympics athletes are no different, and with the support of Tommie Copper and its consumers, our U.S. athletes will have the chance to show the world what they're capable of," said Special Olympics Team USA Head of Delegation Chris Hahn.
Tommie Copper is the next evolution in performance apparel. Go to http://www.tommiecopper.com to find out more information.
*Orders placed in Alabama, Illinois and Massachusetts are excluded from this promotion.
---
ABOUT TOMMIE COPPER: Tommie Copper is the next evolution in performance apparel. All Tommie Copper products are copper-infused and available in a Compression Fit for relief from aches and pains and a looser ActiveFit for everyday wear. The CompressionFit line includes multiple colored sleeves, shirts, shorts, tights and gloves for all the pain points of the body. The ActiveFit line includes shirts for men and women available online and in the Tommie Copper retail store in Mount Kisco, NY. Go to http://www.tommiecopper.com for more information.
ABOUT SPECIAL OLYMPICS TEAM USA- More than 500 athletes, coaches and official delegates comprise Special Olympics Team USA and will represent the United States of America at the 2015 Special Olympics World Summer Games in Los Angeles, CA, July 25 – August 2, 2015.
Special Olympics Team USA athletes will compete in 16 Olympic-type sports, including aquatics, athletics (track & field), basketball, bocce, bowling, cycling, equestrian, golf, gymnastics (artistic and rhythmic), kayaking, powerlifting, sailing, soccer, softball, tennis, and volleyball. Special Olympics Team USA is sponsored by Premier Partner Tommie Copper.
Follow Special Olympics Team USA online at http://www.specialolympicsteamusa.org; Facebook: http://www.facebook.com/SOTeamUSA; Twitter: @SOTeamUSA.