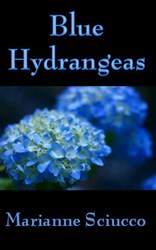 "Reading this lovely book has been a gift indeed." - Amazon reader M.J. Sherman
Middletown, NY (PRWEB) November 21, 2013
The Top 12 Reasons to Put Books at the Top of Your Holiday Gift Shopping List Marianne Sciucco, author of Kindle bestseller "Blue Hydrangeas," an Alzheimer's love story, offers twelve good reasons to start and finish your holiday gift shopping all in one place: your favorite bookstore.
Once the turkey's picked clean and the Thanksgiving leftovers are packed into lunches, it's time to sit down with your holiday gift list and come up with a shopping plan. Stumped for ideas? Marianne Sciucco, author of Kindle bestseller "Blue Hydrangeas," offers twelve reasons to put books at the top of your gift-buying list.
1. You can find something for everyone. There's a book for every reader, whether a cook book for your new mother-in-law, a comic book for your niece, or a coffee table book for the boss who has everything.
2. You have a great excuse to spend an entire day at your favorite bookstore. Whether you're shopping at the big box store in the mall, your local bookseller on Main Street, or your favorite online store, you can happily consume an entire day selecting books for everyone on your list. Remember to stop long enough to enjoy a latte and some biscotti at the café, or at your desk if you're at home, in your jammies, well beyond store hours.
3. Your gift can educate and entertain at the same time.
4. You can transport your reader to another time and place, allowing them to see a different world without having to buy airline tickets.
5. They're easy to wrap.
6. Books are an affordable way to "wow" someone. Even the latest blockbuster bestseller costs much less than, say, the latest electronic gadget, and will most likely outlive its obsolescence.
7. They're easy to regift. And regift. And regift….
8. They come in many varieties, so you'll be sure to find just the right one to please, whether it's a hardcover, paperback, e-book, or audiobook.
9. The small ones, like mass media paperbacks, make excellent stocking stuffers. So do gift cards.
10. You can borrow it after the reader's read it without appearing tacky.
11. You can support your favorite books and authors by sharing them with others.
12. You can also support your favorite bookseller, ensuring that books of all kinds are always available.
About the Author:
Marianne Sciucco is not a nurse who writes but a writer who happens to be a nurse. Her debut novel, "Blue Hydrangeas," an Alzheimer's love story, is available on Amazon in both Kindle and paperback, and on Apple's iBooks, Barnes & Noble's Nook,and the Vook Store. Sciucco penned the novel, rated 4.8 stars by Amazon readers, based on her experiences as a registered nurse working with dementia patients and their families at an upstate New York hospital and several area nursing homes.
Contact: Marianne Sciucco, (845) 978-9385, mariannesciucco(at)gmail(dot)com